The co-founder of Twitter has said the company is happier about the way it deals with online abuse on the platform, following the introduction of a range of measures to tackle the problem.
But speaking in Dublin, Jack Dorsey said the social network would never be finished with the issue, as trolls will always find new ways of harassing people, like they do in the real world.
The Twitter CEO also said that even though the firm has yet to turn a profit, it is a company that endures forever.
It lasts because it is fundamental
"So we are going to make the time and take the time to do the right things for the people using the product and also our advertisers, and the revenue follows."
Eleven years old, Twitter has been attracting much criticism as it struggles to maintain consistent user growth. Its share price is also down 63% on its 2013 flotation price.
Twitter CEO Jack Dorsey visits Dublin office https://t.co/YdCjsAcFyN

— RTÉ Business (@RTEbusiness) March 30, 2017
But Mr Dorsey, who is back at the company for a second stint as CEO, says growth is returning and the problems are being addressed by the introduction of machine learning into the timeline.
"We've spent the past year focused on what matters most, and what matters most is the timeline and showing people what's happening before they see it anywhere else," he told RTÉ News.
.@jack is visiting the @TwitterDublin office today. Having a chat here with some users including @minniemelange @TheHarryMcC and @nbrez. pic.twitter.com/lZuN32Xc62

— Will Goodbody (@willgoodbody) March 30, 2017
"We've seen continued acceleration of our consumer growth so we are really proud to go from a decline, to single digits to double digits. So we continue to see that and that gives us a lot of confidence to continue to take some bigger and bigger moves.
"It is an extremely hard thing for most services, most companies to do at scale. But especially internet companies."
There aren't a lot who have managed to do what we did, which is turn the growth around
Mr Dorsey made his comments while visiting Twitter Dublin, where the company has around 200 employees.
Earlier in the week he was in the UK for the launch in the market of Square, the mobile payments company he also co-founded, and which he is also the CEO of.
Despite continued suggestions that running two publicly quoted companies is too much for one person to do, the 40-year-old says it is all about remaining focused.
"We only have so many hours in the day and you could try to extend the number of hours you spend on things or you can just make sure you are spending that hour on the most meaningful thing and that hour matters and you are holding a really high bar to what you work on," he said.
"And that is a huge constraint on what you do and what you focus on and I think that naturally removes all the distractions and all the things that aren't meaningful towards your goal. So I think both companies have a really clear sense of what's important and what matters and what we need to work on and we are executing."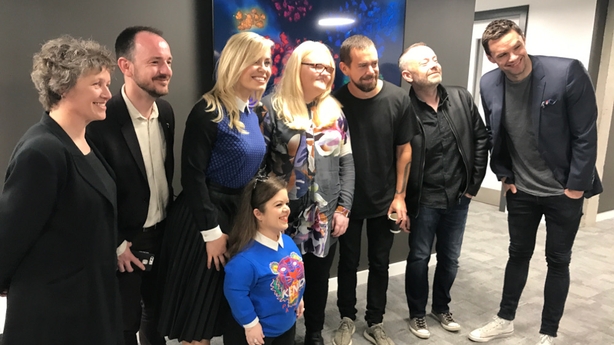 Twitter has in the past been consistently criticised for failing to do enough to combat trolling on the micro-blogging platform.
Mr Dorsey acknowledges there was a problem because the company put the burden of reporting and blocking online abuse on the victim.
But he says that has all changed since the beginning of this year, after his team was instructed to focus solely focus on the problem until it was fixed.
As a result, new measures have been introduced to make life on Twitter more difficult for trolls.
"It is working," he told RTÉ News.
"We made it one of our top priorities as a company at the beginning of the year and the team has been shipping every single day against that goal. People are noticing and I think it is definitely improving the experience.
We are seeing trolls who now are saying they are bored, it is a little bit too hard and it is not funny anymore.
"So that's a good thing but we have a lot more work to do and we have more controls to put in place and more machine learning to make sure we are doing the right things."
Asked about the company's Dublin operations and the importance of the location as Brexit evolves, Mr Dorsey said the biggest attraction is the people.
"It's attractive because we have just great people here and that's why we are here, to attract the best, we've had some pretty significant time here in the country and love the folks and love the energy."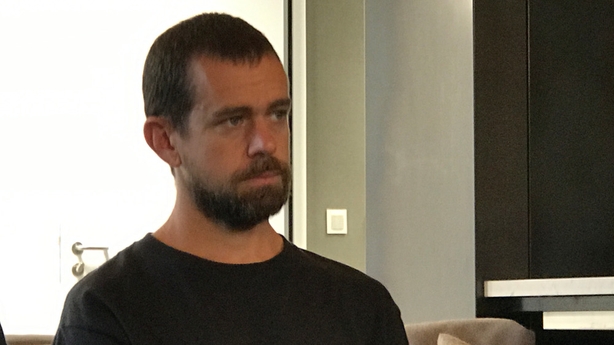 Last year it was reported Twitter was in discussions with a number of large tech firms, including Google and Salesforce, about a takeover, which ultimately came to nothing.
Today Mr Dorsey would not speculate on the possibility of that arising again in the future, particularly in the face of the challenges faced by the company.
There's always a number of distractions that could take us away from the work.
"But we are a company that is really focused on doing the right thing and that is building something that people want to use every single day and they value every single day. And we are proving that with the numbers as we've been sharing on our earnings calls."
On the issue of the introduction of a tweet edit feature, the Twitter boss said they are looking at the issue.
"The biggest seed of it is people want to be able to correct spelling mistakes so they kind of want a small window to correct spelling mistakes," he said.
So everyone has a different opinion on it, so we are just weighing everything and understanding what matters most
He also did not rule out the introduction of some kind of subscription model for the Twitter service, something that was recently floated in the context of a paid higher-end version of the Tweetdeck tool.
"We haven't ruled out anything," he stated. "We want to keep an open mind and always learn."
"So I think looking at subscriptions is interesting and I think there is some value there, especially for journalists and providing more economic incentives."
"It's just a germ of an idea, nothing serious yet but we should always have an open mind to complement our advertising business. But our advertising business is amazing, it is one of the biggest at scale out there."