Permanent TSB has reported an after-tax loss of €266m for the year to the end of December after €414m of exceptional items - relating to deleveraging and restructuring - are taken into account.
The bank reported reported a headline profit - before exceptional items and tax - of €188m for 2016.
That figure includes the proceeds of the sale of its stake in Visa Europe which netted the bank €29m.
The bank said its net interest margin - a key measure of a bank's financial strength - increased by 0.36% to 1.48% by the end of December.
The lender said its non-performing loans reduced by 11% to €5.9 billion by the end of December compared to the same time the previous year.
Total impairment charges decreased by €103m, which resulted in a total write-back of €68m for 2016.
We need your consent to load this rte-player contentWe use rte-player to manage extra content that can set cookies on your device and collect data about your activity. Please review their details and accept them to load the content.Manage Preferences

In today's results statement, Permanent TSB said that it will not be able to meet the target of a dividend from 2017 earnings due the uncertainty created by the current regulatory environment, especially in relation to the treatment of non-performing loans.
"We remain committed to returning capital to shareholders and are guiding to dividend payments from 2018, in 2019," the bank said.
"The bank is continuing to deliver its operational turnaround successfully and at pace," commented Permanent TSB's chief executive Jeremy Masding. 
"In doing so, we delivered a strong operating performance with significant trading profitability and the completion of a three-year deleveraging programme of over €9 billion that now allows us to focus exclusively on delivering profitable growth," Mr Masding said.
"We have all the foundations for success so we must now deliver sustainable value for our customers and our owners - we are confident we will do that," the CEO added.
Mr Masding today criticised the cost of Central Bank regulation.
Mr Masding said he hoped there would be a "better and fairer" calculation in future. The banking levy and regulatory charges cost the lender €61m last year. 
During the year, Permanent TSB said it opened 37,000 new current accounts, while current account balances rose by 12%.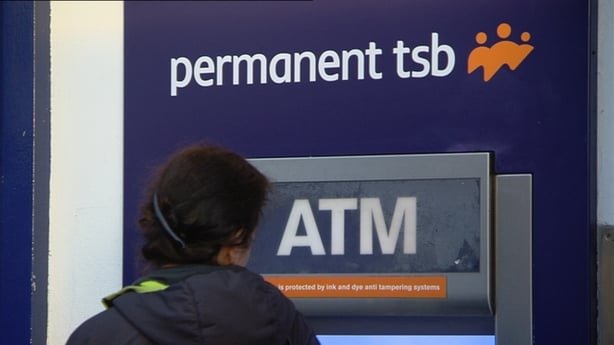 But it noted that Irish retail deposits fell by €0.8 billion or 7% due to continued reduction in deposit interest rates for personal customers across the Irish banking industry.
The bank said that total new customer lending rose by 14% year on year. The lender also saw €525m in new mortgage lending, which was also an increase of 14%,
"Despite the positive year on year increase, growth in the mortgage market continues to be subdued due to supply constraints in the housing market," the bank noted.
Permanent TSB said that 54% of its residential non-performing loan balances at the end of the year remain in form form of forbearance treatment. 
About 93% of these loans are performing to their restructured terms, it added.
"These customers are contracted to engage with us once every three years. While it is too early to quantify the impact, we have now carried out over 5,000 Recurring Customer reviews in the last six months and we have seen a high level of customer engagement," the bank stated.
It added that these reviews will benefit both the customer and the bank itself over the longer term.
In relation to the remaining 46% of non-performing loans, about 12% are en route to closure, either through voluntary sales or repossession and about 7% are "technically held".
The other 27% remain "untreated" mainly due to a lack of customer engagement or their unaffordability. 
But PTSB said it continues to collect cash from this group of customers with about 30% of untreated non-performing loans paying more than their contractual interest.
Shares in the bank closed 2.5% lower in Dublin trade today.