Paddy Power Betfair has reported higher revenues and operating profits for 2016 - its first full year of earnings since the merger of the two betting giants last year.
Revenues for the year to the end of December rose by 18% to £1.5 billion, while the company's operating profits jumped 44% to £330m.
However it said that for statutory purposes, it reported a loss of £5.7m mainly due to expenses related to the merger of the two firms.
The company has proposed a final dividend of 113 pence per share which resulted in a total dividend for the year of 165 pence per share.
Chief executive Breon Corcoran said that 2016 was a transformational year for the company, with much of the integration of the businesses completed sooner and more efficiently than expected.
"We have created a business with considerable scale that is stronger and better able to compete than either of the individual legacy companies. The group is well positioned to deliver sustainable, profitable growth," Mr Corcoran added.
He also said that so far, the company has seen no material impact on its business at all from the Brexit vote in the UK.
From the 2017 financial year, Paddy Power Betfair said that it will benefit from total cost synergies of £65m a year after a £35m benefit in 2016. It added that the once-off implementation cost to achieve the synergies was £66m last year.
Paddy Power Betfair said its sports revenue for last year rose by 19% and gaming revenues increased by 14%.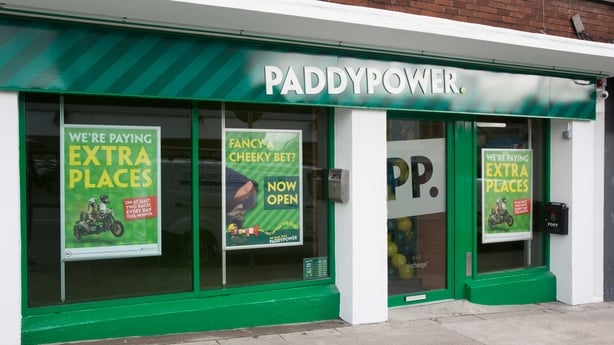 It noted that revenue growth included a £78m benefit from the translation of non-UK revenues due to the weakness of sterling compared to 2016.
The company said that sports results "ebbed and flowed" between favouring bookmakers and customers during 2016.
"The first quarter saw a high number of favourites winning at the Cheltenham Festival, before unfancied results at the Euro 2016 tournament boosted revenues in June and July. The year concluded with customer friendly football results in December," it added.
Revenues at the company's Online division grew by 14% to £853m, with sports revenue up 14% to £609m. Active customers increased by 11%.
In Australia, Paddy Power Betfair said that stakes continued to grow strongly last year, rising by 25% to £2.9 billion despite increased competition. Revenues rose by 18% to £312m and was impacted by adverse sports results.
Its retail division - which operates 613 Paddy Power betting shops in Ireland and the UK - saw revenues grow by 11% to £295m. Revenues from its UK shops were up 8% while from its Irish shops increased by 2%.
During the year the company opened 12 new shops in Ireland and the UK, while it also closed one shop in the UK.
Shares in the company closed more than 5% lower in Dublin trade today.