A new international technology conference has gotten under way in Dublin, 10,000 people expected to attend the two day event.
The Dublin Tech Summit (DTS) is being seen by many industry watchers as an attempt to fill the void left behind following the decision of the Web Summit to move its convention to Lisbon.
The DTS was launched just weeks after the Web Summit announced its shock decision in September 2015, and has been in planning ever since.
However, the company behind the event denies it is trying to replace the Web Summit, and says that the look and feel of the DTS is different.
The event comprises talks and panel discussions from more than 200 domestic and international figures from the technology industry.
100 startups are also exhibiting, with 50 taking part in a competition for early stage companies.
There is also an exhibition space at the Convention Centre Dublin venue, as well as evening networking events.
Among the top keynote speakers are social media guru and entrepreneur, Gary Vaynerchuk, Smashing Pumpkins drummer-turned-businessman, Jimmy Chamberlin and advertising consultant and founder of IfWeRanTheWorld and MakeLoveNotPorn, Cindy Gallop.
A full size and functioning humanoid robot called Robothespian, built by Engineered Arts in Cornwall, will also be taking part.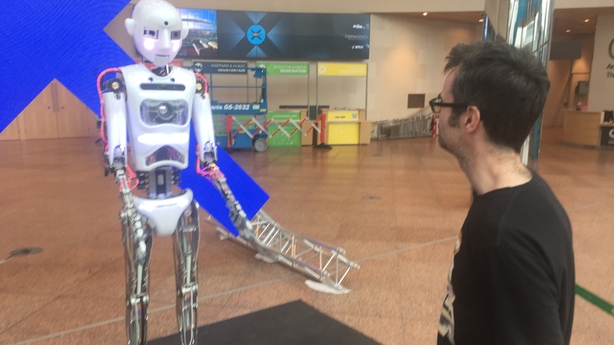 Two thirds of those attending are coming from abroad, and 48% are women.
This follows a campaign by the DTS to give €400,000 worth of tickets to under-represented groups in the tech industry, including women and students.
RTÉ is a media partner of the event, and you can follow what is happening at rte.ie/dts