PayPal Holdings last night offered a subdued outlook, as it faced unpredictable currency fluctuations and an increasingly competitive digital payments market.
The payments processor predicted its first-quarter revenue would be roughly in line with analyst expectations, with flat to slightly better operating margins for the full year.
PayPal gave the guidance in reporting a 17% rise in fourth-quarter revenue that mirrored Wall Street expectations.
The company's chief financial officer John Rainey said fourth-quarter results were hurt by currency movements, and he expected those pressures to continue throughout the year.
Chief Executive Dan Schulman said competition is heating up in mobile payments, and investing in PayPal's own offerings has become "increasingly important" to gain an advantage over rivals.
"Payments are rapidly digitising," he said. "Mobile is redefining the face of retail."
The California-based company's earnings report came as Ant Financial Services, an affiliate of Chinese e-commerce company Alibaba Group said it would acquire US money-transfer company MoneyGram.
This deal is expected to shake up the international payments landscape.
Ant, the world's largest financial-technology company, has been expanding at home and overseas as it prepares for a planned initial public offering later this year.
In the US, PayPal is facing rivals such as Zelle, a soon-to-be-launched platform backed by a consortium of large banks.
Technology firms such as Apple and Alphabet's Google are also looking to capture new customers through payments and money transfer services.
To fend off competition, PayPal has been expanding its network of strategic partnerships and launching or acquiring new services.
In January it announced an agreement with credit-card issuer Discover Financial Services to make it easier for PayPal customers to use Discover's product. It also recently partnered with Citigroup and Fidelity National Information Services (FIS), which represents thousands of financial institutions.
PayPal is also trying to improve its core offering by adding features like One Touch, which allows customers to pay with a single click. It now has more than 5 million active merchant accounts offering the tool.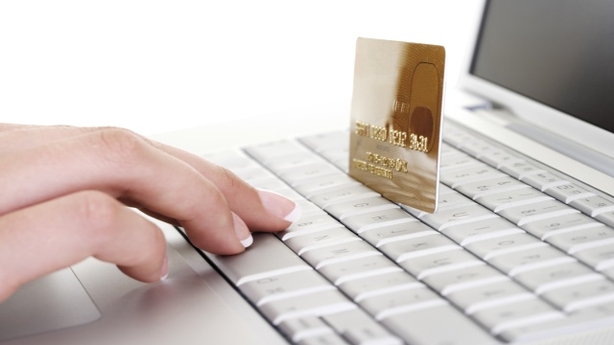 PayPal has been available since the late-1990s, and for a long time was linked with e-commerce firm eBay - giving it more brand familiarity and a much larger customer base than newcomers.
But its growth is slower than startups like Venmo, which first started being used in 2009.
During the quarter, PayPal said its mobile payments rose 53%, to $31 billion.
PayPal's total payments volume rose 22% to $99 billion. Active customer accounts rose 10% to 197 million, beating research firm FactSet StreetAccount's estimate of 196.5 million.
Schulman said growth in mobile payments and new customer accounts helped boost fourth-quarter revenue to $3 billion, up 17% compared with a year earlier, matching forecasts of analysts polled by Thomson Reuters.
The company said expects first-quarter revenue to land in a range of $2.9 billion to $2.95 billion. Analysts were expecting $2.95 billion, on average.
Its net income rose to $390m, or 32 cents per share, from $367m, or 30 cents per share, a year earlier. On an adjusted basis, the company earned 42 cents per share.
PayPal operates in many geographic markets around the globe, with half of its revenue coming from overseas. It tries to hedge against currency-related losses using financial instruments.
But in the fourth-quarter, declines in the euro and Australian dollar hurt PayPal's results.
The company expects more pain this year as it adjusts its currency positions, especially in the first half.