Google parent Alphabet bettered analysts' estimates for third-quarter profit and revenue as the search company showed it has honed its core business for the mobile era and is closing in on the next wave of computing.
Propelled by strong advertising on mobile devices and video site YouTube, Alphabet's net income climbed 27% to $5.06 billion.
Revenue jumped 20% to $22.45 billion, marking the search giant's seventh quarter of double-digit revenue growth in a row.
Google is competing fiercely with social network Facebook for dominance in the fast-growing mobile advertising market.
Google chief executive Sundar Pichai touted the company's gains in the space, and was bullish about recent product launches such as the Google Assistant, the Google Home smart speaker and refinements to the enterprise cloud business.
The products are aimed at the rise of voice search, which many analysts believe will succeed keyboards and touch screens as a primary way users interact with devices.
"We feel well positioned as we transition to a new era of computing," Pichai said in an conference call.
"This new era is one in which people will experience computing more naturally and seamlessly in the context of their lives, powered by intelligent assistants and the cloud," he added.
Alphabet is the world's second biggest company by market value.
The company posted third-quarter adjusted earnings per share of $9.06, beating expectations of $8.63 a share on revenues of $22.05 billion, according to Thomson Reuters I/B/E/S estimates.
Google has been dogged by concerns about how it would nudge its vast web advertising business toward mobile.
But the company's recent performance has reassured Wall Street that the transition is well underway, analysts said.
Advertising revenue, the company's lifeblood, rose 18.1% to $19.82 billion in the third quarter.
Paid clicks, or ads for which advertisers pay only when users click on them, rose 33%, compared with a rise of 29% in the second quarter.
Cost-per-click, or the average amount advertisers pay Google, fell 11% in the latest three month period, but investors are willing to forgive the slump, for now, as it suggests strong mobile growth.
YouTube continued to post robust gains, Pichai said.
Over the past year, Google, Facebook and Twitter have all doubled down on video, a format where advertisers are willing to pay a premium for a few seconds of users' undivided attention.
Advertising accounted for 89.1% of Google's total revenue in the quarter, and analysts are eager for the company to tap new sources of growth.
One of the leading contenders is Google's cloud business, which drove a 38.8% rise in the company's "other revenue."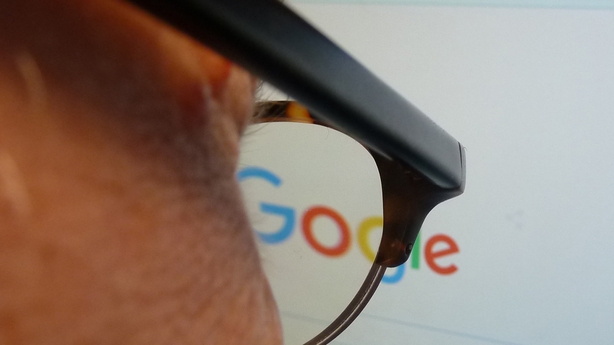 "As we head into 2017, I expect cloud to be one of our largest areas of investment," Pichai said.
A relatively late entrant to the cloud business, Google is trying to steal market share from industry leaders Amazon.com and Microsoft.
Amazon last night reported a 55% revenue increase in its cloud business.
Alphabet's "Other Bets" unit generated revenue of $197m, primarily from Nest, Google Fiber and Verily units, the company's chief financial officer Ruth Porat said during the call.
Porat played down analysts' concerns of instability at Other Bets, which has suffered a wave of executive departures, including Nest founder Tony Fadell, self-driving car technology chief Chris Urmson and, most recently, Barratt.
"As we reach for moonshots that will have a big impact in the longer term, it's inevitable that there will be course corrections along the way, and that some efforts will be more successful than others," Porat said.
Other Bets, which also includes research unit X, reported an operating loss of $865m, down from a year-ago loss of $980m.