Yahoo has reported better than expected quarterly adjusted profit, a boost for the beleaguered company whose deal to sell its core business to Verizon Communications has been shaken by a massive data breach.
Verizon's general counsel said last week that the hack, which affected at least 500 million email accounts in 2014, could have a material impact, possibly allowing Verizon to withdraw from the $4.83 billion deal.
The company's quarterly results provided at least an initial indication that the data breach has not led to a quick exodus of Yahoo customers, as some had feared.
Customer trends showed growth in pageviews and email usage, Yahoo said.
Still, analysts were split on whether the results dispelled doubts about the deal going through.
Yahoo said in a filing with securities regulators shortly before the breach was disclosed that it knew of no cyber risks, raising questions about whether Verizon was informed of the breach in a timely fashion.
Legal experts have said Verizon would have to clear a high hurdle to prove that the breach amounted to a material adverse change that would allow it to pull out of the deal.
Another positive sign for Yahoo from its latest results was that revenue from Mavens - the mobile, video, native and social advertising units that CEO Marissa Mayer touts as its emerging businesses - rose 24.2%to $524m.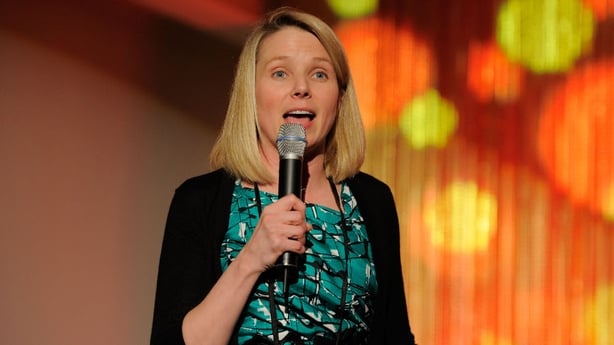 Still, the business showed continuing declines in major revenue categories. Gross search revenue fell 14.1% to $752.5m.
Yahoo said its total revenue rose 6.5% to $1.31 billion, just beating the average analyst estimate of $1.30 billion, according to Thomson Reuters I/B/E/S.
But after deducting fees paid to partner websites, revenue fell to $857.7m from $1 billion the same time last year.
Yahoo had said last week that it would not hold a call or webcast after the release of the results, citing the Verizon deal.
For the third quarter ended September 30, net income attributable to Yahoo rose to $162.8m, or 17 cents per share, from $76.3m, or eight cents per share, a year earlier.
Excluding some items, the company earned 20 cents per share, beating analysts' average estimate of 14 cents.
Verizon plans to combine Yahoo's search, email and messenger assets as well as advertising technology tools with its AOL unit, which it bought last year for $4.4 billion.
The deal would transform Yahoo into a holding company, with a 15% stake in Chinese e-commerce company Alibaba Group and a 35.5% interest in Yahoo Japan as well as Yahoo's convertible notes, certain minority investments and its non-core patents.
The deal is expected to close in early 2017, after which Yahoo plans to change its name and become a publicly traded investment company.