The Cabinet will meet later to discuss the European Commission's decision that Ireland granted undue tax benefits of up to €13bn to Apple.
Minister for Finance Michael Noonan earlier said the Government will appeal the European Commission's ruling.
In a statement the Government said it "disagrees profoundly with the commission's analysis. Ireland did not give favourable tax treatment to Apple."
It added: "Ireland does not do deals with taxpayers. No fine or penalty has been levied against the Irish State. This decision has no effect on the 12.5% rate of corporation tax and is not about Ireland's wider corporation tax regime."
Speaking on RTÉ's News At One, Mr Noonan said the first step will be seeking Cabinet approval tomorrow morning to appeal the ruling.
He said: "I will bring in a written memorandum proposing we issue an appeal and it is up to ministers then to state their opinion."
He said he had already discussed the issue with the Taoiseach, who agrees with his proposal.
Speaking on RTÉ's Six One News, Mr Noonan defended the planned appeal.
He said it was not a moral issue but one of taxation and finance. He said companies and their employees in Ireland pay far more in tax than would be recouped in this ruling.
He reiterated his position that nothing illegal happened in Ireland and that Apple paid taxes that were due in Ireland.
The minister said a further reason to appeal the decision would be to prevent the commission from having the right to direct tax policy in any country.
He said he would be recommending to Cabinet that the Government appeal the ruling; saying "There was no sweetheart deal, no special deal for Ireland."
However, while Mr Noonan is advocating an appeal, his Cabinet colleagues from the Independent Alliance have reserved their position.
Independent Alliance set to meet again before tomorrow's cabinet:  their ministers unhappy but unlikely to break ranks over Apple-sources

— ddp (@theddp) August 30, 2016
Apple plans appeal 
Apple is appealing the decision, saying: "the European Commission has launched an effort to rewrite Apple's history in Europe, ignore Ireland's tax laws and upend the international tax system in the process.
"The commission's case is not about how much Apple pays in taxes, it's about which government collects the money. It will have a profound and harmful effect on investment and job creation in Europe.
"Apple follows the law and pays all of the taxes we owe wherever we operate. We will appeal and we are confident the decision will be overturned."
The appeal will be made first to the General Court of the European Union in Luxembourg and then to European Court of Justice.
Parties divided on ruling
We need your consent to load this rte-player contentWe use rte-player to manage extra content that can set cookies on your device and collect data about your activity. Please review their details and accept them to load the content.Manage Preferences
Fianna Fáil's finance spokesperson has described the Europe Commission's decision as remarkable, saying that it will have far-reaching consequences. 
But he said many of the issues included by the commission have been addressed through changes in legislation in recent years. 
However, he believes it is vital from Ireland's perspective that the country's corporation tax system, which is an essential part of the country's overall inward investment strategy, is defended.
Asked if he accepted the findings, and if the Government should accept the findings, Mr McGrath said he has not seen anything to contradict the repeated reassurances from Revenue and the Department of Finance that there was no sweetheart deal done with Apple.
He said he did not see any economic rationale or legal basis for the commission basing its report on the assumption that up to 60% of Apple's global profits for a decade should have been solely taxed in Ireland.
He said it is desirable that finality and clarity on these questions are obtained given that it will inevitably end up in court now that Apple is to appeal, that the Government looks set to appeal, and other member states will feel they are entitled to a slice of the €13bn.
Mr McGrath said in order to get Fianna Fáil's support for an appeal, the Government will have to demonstrate, along with the Revenue Commissioner, that there has been no sweetheart deal, which they can rebut the central allegations made by the European Commission.
He warned it would be unwise for Ireland to make any spending plans for this "windfall" which he says may never actually materialise.
Meanwhile, Sinn Féin's Finance spokesperson Pearse Doherty has called for a public inquiry into what he described as "the illegal State aid given to Apple."
He also called for scrutiny of deals with other multinationals.
He said that his party would be tabling a motion in the Dáil calling on the Government not to appeal the European Commission's decision.
Regarding the party's call for a public inquiry he said it needs to be established if an individual made an honest mistake or if there was a deliberate policy within Revenue regarding Apple.
He also said it needs to be established if there was any government pressure in relation to the tax treatment of Apple.
Mr Doherty added that the amount owed by Apple could be way in excess of €13bn as it does not take into account the period between 1991 and 2003.
He strongly criticised Mr Noonan for not seeking a repayment of the monies, adding that it was not acceptable as €13bn was the equivalent of the health budget.
Labour leader Brendan Howlin called on Mr Noonan to brief the Opposition on the matter but added that Ireland should appeal the decision along with other States.
Richard Boyd Barrett of AAA-PBP said the Government should pursue Apple for the money which would help resolve the housing crisis.
Apple says it remains committed to Ireland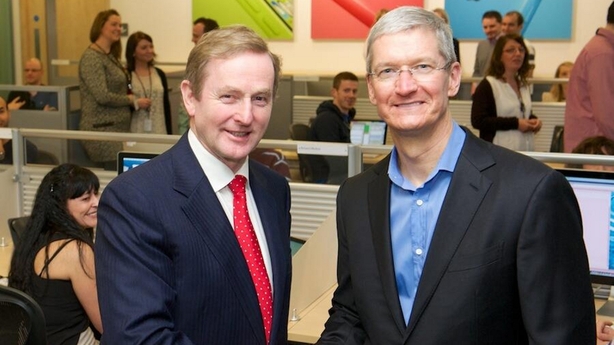 Apple chief executive Tim Cook has said the company is committed to Ireland and plans to continue investing.
Mr Cook published a message today on the company's website reiterating the organisation's commitment to Ireland.
"We plan to continue investing there, growing and serving our customers with the same level of passion and commitment.
He added: "we firmly believe that the facts and the established legal principles upon which the EU was founded will ultimately prevail".