The number of adults in Ireland with Twitter accounts has fallen by 3% to 26% over the three months to the end of July.
That's according to the IPSOS MRBI Social Networking Quarterly, which also shows that the percentage of Twitter account holders here who use it every day has also fallen by 3% to 36%.
The proportion of Facebook account holders remains steady at 64%, with three quarters (74%) using it daily, up 2% on the last quarter.
The percentage of people with Instagram accounts here stayed the same during the period, but the proportion of daily users of the photo sharing app jumped by 5% to 55%.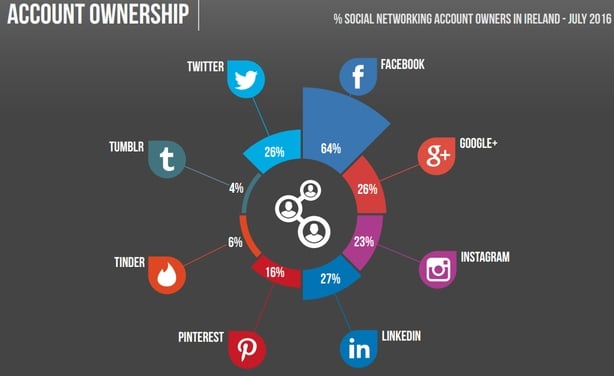 The volume of people registered with LinkedIn here rose slightly, from 25% to 27% during the period, but the number of daily users of the social network for professionals fell 2% to 12%.
The percentage of Google+ users dropped marginally by 1% to 26%.
Pinterest recorded a significant drop of 5% in daily users, even though its number of registered users here remained unchanged at 16%.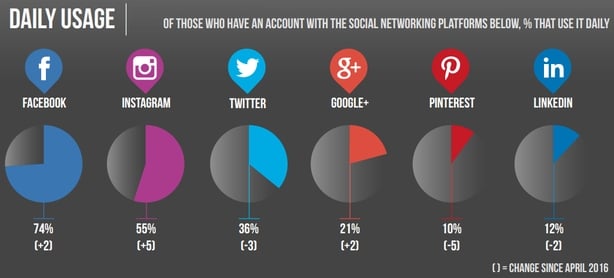 In the area of social messaging, daily use of the dating app Tinder rose 7% during May, June and July, although overall just 6% of adults here have it.
Facebook Messenger remains the most downloaded messaging app, at 53%, up two points during the period, while the proportion of adults with WhatsApp accounts remains the same at 49%.
Snapchat continues to slowly grow its user base here, with the percentage of people with the app now standing at 28%.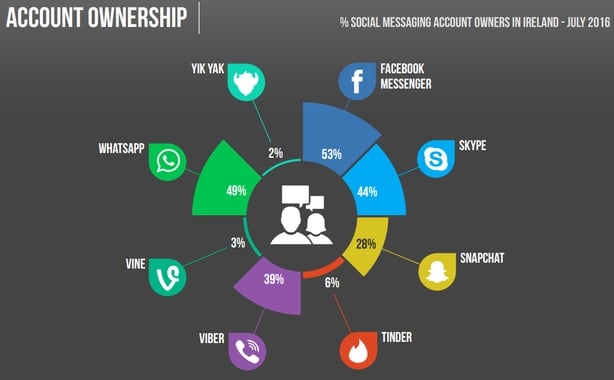 But although it remains the most used app on a day-to-day basis, daily use of the quirky messaging tool has plummeted 5% during the quarter, and now stands at 67%.
Facebook Messenger recorded a 4% increase in daily usage, and now stands at 55%.
The Social Media and Social Networking quarterly polls are carried out by telephone among a sample of 1,000 adults every two weeks.