Vodafone has reported a better-than-expected 2.2% rise in first-quarter organic service revenue.
This marks an eighth consecutive quarterly rise in its main growth measure, as the company was aided by a strong performance in Spain and Germany.
The world's second-largest mobile operator also confirmed its outlook for the full year today.
It said its European markets - which only returned to growth in the final quarter of 2015/2016 - were stable, with growth of 0.3% despite the impact of cuts in roaming charges.
Analysts had predicted a flat result in Europe. Faster growing markets in Africa, Middle East and Asia-Pacific (AMAP) grew by 7.7% in the three months to the end of June, beating analyst forecasts of a 7% rise.
Vodafone's chief executive Vittorio Colao said the group was making good progress.
"In Europe, our growth remains stable despite regulatory pressure on roaming revenue, with good performance in Germany, Spain and Italy while we are focused on improving our performance in the UK," he said.
"Our growth momentum in AMAP remains strong, with excellent performance in South Africa, Turkey and Egypt and ongoing recovery in India," he added.
Vodafone has switched to reporting in euros from pounds - reflecting the relatively bigger size of its combined euro zone businesses.
It has also said it could move its domicile to a new country after Britain voted to leave the European Union last month.
Analysts expected the group to report organic service revenue growth of 1.9%, compared to underlying growth of 1.8%in the final quarter of 2015/16.
Reported growth of 2.5% in the final quarter of 2015/16 was boosted by an extra day's trading in February as it was a leap year and accounting changes.
Meanwhile, Vodafone Ireland said its service revenue for the quarter to the end of June 2016 rose by 2.8% to €242m compared to the same time last year.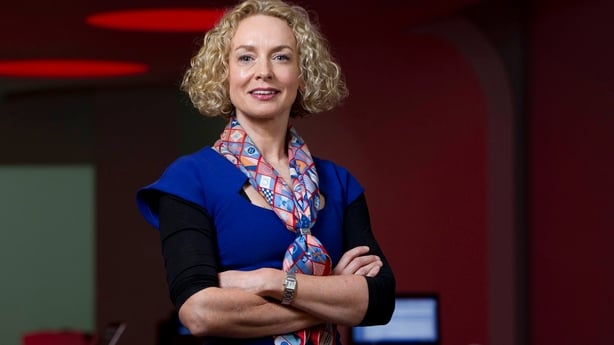 The company said that its growth was driven by a continued increase in mobile customers moving to contracts and "significant positive" growth its fixed business
Vodafone Ireland's mobile customers on contract grew by 11,000 during the quarter and by 35,000 on a yearly basis.
Its total broadband customer base also saw strong growth, with subscriptions jumping by 10.7% year-on-year to a total of 247,000.

Overall total customer numbers, covering mobile, broadband and TV, remained stable at 2.2 million, the company stated.
Vodafone Ireland's CEO Anne O'Leary said the company continued to see positive returns on its ongoing investment in the country.
"Our move to a fully-converged offering has given customers more choice and we continue to see significant interest in customers choosing Vodafone to meet their total communications needs across both consumer and business," Ms O'Leary added.