Consumer spending in supermarkets increased by 3.6% in the 12 weeks to 28 February, while SuperValu retains the largest market share in the sector with 25%.
The latest supermarket share figures from Kantar Worldpanel indicate Dunnes Stores' strong recent growth is continuing, with sales at the retailer 7% higher than the same period last year.
This representedn increase of almost €3m per week across the quarter.
Bigger baskets remain the primary driver of growth for Dunnes, with the average shopping trip now coming to €37.60, which is nearly €2.50 higher than last year.
Dunnes now has a market share of 24.1%, just behind Tesco's share of 24.2%.
Kantar's data suggests healthy foods are performing well ahead of the market, with sales of fresh fish up by 13%, while fruit saw a rise of 11%, and nut sales are 17% higher on the same period in 2015.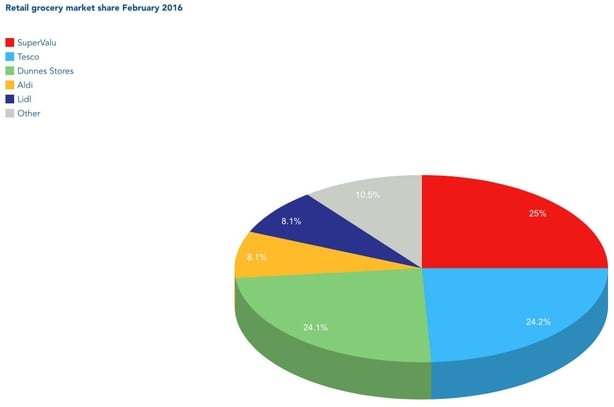 Tesco has increased sales by 0.6% year on year, and the latest set of industry figures indicate the retailer has had its third successive period of growth.
This growth is attributed to more frequent visits, with each shopper visiting Tesco an average of 14 times in the last quarter, compared with 13 visits for the same period last year.
Meanwhile, SuperValu has grown slightly ahead of the market, increasing sales by 3.7% in the last quarter.
This has boosted the retailer's market share to 25%, reaffirming its position as the number one supermarket in the country.
Growth also remains steady among the discount retailers, with Lidl's double-digit growth continuing. The German retailer has increased its market share by 0.5% to 8.1%.
Over 66% of Irish households shopped in a Lidl store in the past 12 months, compared with less than 60% five years ago.
Aldi's growth is less pronounced, however, but larger shopping trips by customers have helped to boost sales by 3%.
Aldi now holds a market share of 8.1%.