Dunnes Stores experienced the largest growth of any Irish supermarket in the last three months, increasing its sales by 4.7% and bringing the retailer's current market share to 23.2%.
This marks the eleventh successive period of sales growth for Dunnes, as its ongoing 'Shop and Save' campaign encourages shoppers to buy more items in each shop.
Dunnes has also focussed on price promotions this period, with products on offer accounting for 39% of all consumer spend in its stores during the past 12 weeks.
The latest supermarket share figures, compiled by Kantar Worldpanel in Ireland, cover the 12 weeks ending 11 October and show a year-on-year growth in sales of 2.1% across the Irish grocery market. 
Meanwhile, Tesco retains its position as the largest supermarket in Ireland, with sales performance continuing to stabilise and market share standing at 24.5%.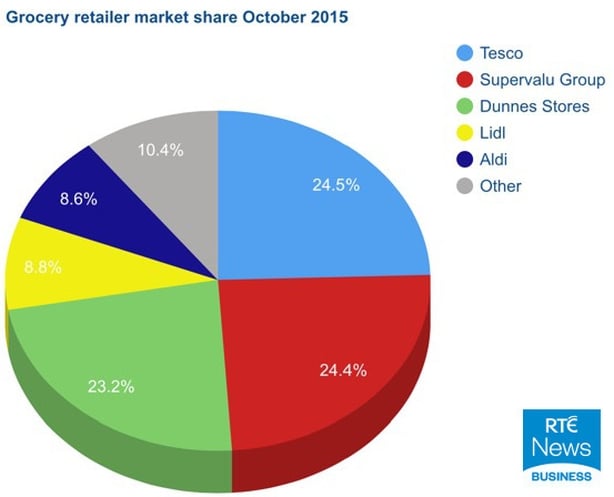 SuperValu has seen an improvement in performance this period, bringing its market share to within just 0.1% of Tesco.
This is attributed to a significant increase in repeat shopping trips, with each shopper making an additional two visits to the retailer when compared with the same period last year.
Elsewhere, both Lidl and Aldi continued to gain ground, with year-on-year increases in sales of 9.8% and 4.5% respectively.
For both retailers the strongest source of growth has been larger trips – each basket in Lidl contained on average two additional items when compared with last year, while Aldi's baskets saw an increase of one item.
Lidl has also managed to successfully win new shoppers, with an additional 40,000 choosing to shop with the retailer this year.
Commenting on the data, Director at Kantar Worldpanel David Berry said: "With the countdown to Christmas now underway and seasonal items appearing on the shelves, the battle to win during this vital season is on.
"Intense competition means that consumers are already seeing a range of strong offers as retailers try to outdo each other on price and quality, and this will only continue as Christmas approaches."