Consumer prices rose by 0.4% between January and February but are 0.1% lower than the same time last year, according to new data from the Central Statistics Office.
The CSO's Consumer Price Index shows that the most notable changes in the year were decreases in clothing & footwear (-3.8%), transport (-3.1%), furnishings, household equipment & routine household maintenance (-1.8%), and food & non-alcoholic beverages (-0.9%).
Transport prices fell mainly due to lower diesel and petrol prices, a reduction in the price of cars and a fall in air fares, which was partially offset by an increase in bus and taxi fares.
Price decreases in housing, water, electricity, gas & other fuels decreased primarily due to lower mortgage interest repayments, a reduction in the cost of home heating oil, and a decrease in the price of electricity and gas - which was partially offset by higher rents.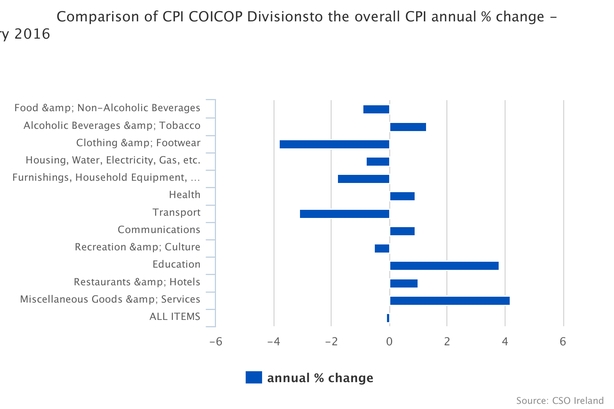 Meanwhile, there were increases in miscellaneous goods and services (+4.2%), education (+3.8%), alcoholic beverages & tobacco (+1.3%) and restaurants & hotels (+1.0%).
Education prices rose primarily due to the extra costs associated with participating in third-level education.
The CSO statistics also show the inflation rate on consumer prices last month was 0.4% higher than January.
The sectors which caused the largest upward contribution to the inflation rate in February were clothing & footwear (+0.25%) - a sector that saw a considerable recovery in sales - and restaurants & hotels (+0.07%), with a significant increase in the cost of hotel accommodation.
The division which caused the largest downward contribution last month was food & non-alcoholic beverages (-0.08%).
Prices on average, as measured by the EU Harmonised Index of Consumer Prices (HICP), decreased by 0.2% compared with February 2015.
Commenting on the CSO figures, ISME Chief Executive Mark Fielding said: "The low rate of inflation indicates that, in general, prices have not gone up but, many of the costs associated with business have increased substantially, including motor insurance, which has risen by a massive 29%.
"This has resulted in a double whammy whereby SMEs are paying more to produce their products but cannot increase the prices accordingly."