Consumer prices were only marginally higher in December when compared to a year ago, according to the Central Statistics Office.
The Consumer Price Index was 0.1% higher last month compared to December 2014 and was 0.1% lower than the figure recorded in November 2015.
The cost of transport was 4.3% lower year-on-year, with rising bus and taxi fares being offset by declining petrol and diesel prices, as well as lower prices for motor vehicles and air travel.
Meanwhile, discounts being offered by retailers led to a 4.1% fall in the price of clothing and footwear, while the price of furnishings and household equipment was 1.5% lower.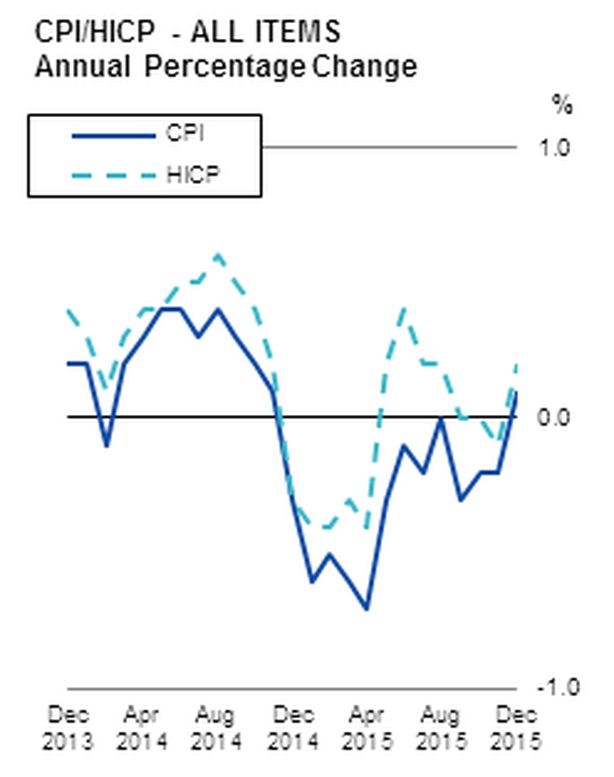 Food and non-alcoholic beverages were also cheaper year-on-year, with average prices down 1%.
Against this, the price of education was 3.8% higher, making it the category with the biggest increase in the year.
Miscellaneous goods and services prices were up 2.8%, primarily due to a 31.1% rise in the cost of car insurance.
Despite the falling price of oil, the category covering housing, water, electricity and gas was 2.1% higher in the year - this was due to rising rent prices and the introduction of water charges.
Meanwhile, prices at restaurants and hotels rose by 1.6%, as the cost of hotel accommodation rose along with the price of food and drinks consumed on their premises.