Shares in Permanent TSB fell sharply today after the bank's first annual profit since 2007 was marred by a lack of writeback provisions and disappointment in the pace of mortgage lending.
Permanent TSB said its underlying profit before tax and exceptional items came to €26m last year compared to a €39m loss in 2014.
Its exceptionals, however, include several hundred million euro in losses primarily from the sale of half of its UK business.
PTSB said its gross mortgage lending inched 2% higher to €459m. It said that while the level of increase in mortgage lending was positive, it was not satisfied with the level of growth achieved during the year. 
Overall, PTSB said it wrote €519m worth of new loans during the year, up 6% on the previous year. 
During the year, it opened about 43,000 new current accounts, while balances on its current accounts rose by 13.9%. 
But Irish retail deposits fell by 5.5% during the year to €11 billion, which the bank said was in line with its strategy and the continued reduction in deposit rates in Ireland.
Today's accounts also show that Permanent TSB's former finance director Glen Lucken, who resigned last September, was entitled to a payment of €402,500 in lieu of notice. 
In addition his salary and other benefits were €329,000 last year. 
Meanwhile, the bank also said that its non-performing loans fell by 27% year-on-year to €2.2 billion.
The number of mortgages where homeowners are behind on repayments for three months or more fell by 21% to 13,718 and those in arrears for 270 days or more was down 9% to 8,612.  
The bank reported a total impairment charge for the year of €35m, an increase of €77m from 2014.
It said that both years included updates made to provisioning model parameters and assumptions. "When these adjustments are excluded, the underlying charge would have been a credit of €99m in 2015 compared to a charge of €88m in 2014," the bank said.
The improvement reflects reduced new debt flows and sustained loan cures supported by the improved economic backdrop in the country, it added.
Permanent TSB also provided an update to its redress scheme for tracker mortgage customers who were improperly prevented from reverting to their tracker rates after fixing their repayments for a set term. 
The bank said that 90% of the nearly 1,400 cases have now been fully redressed.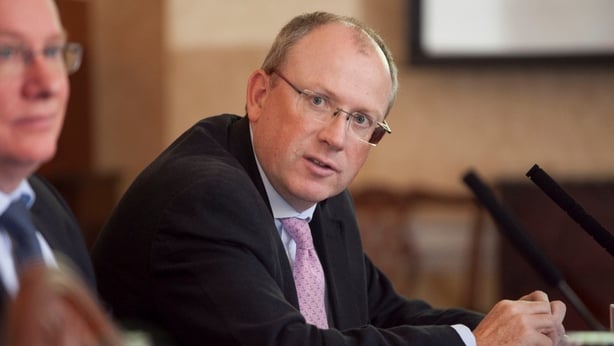 Speaking on Morning Ireland, the bank's chief executive Jeremy Masding said that 30 of the banks' customers who were involved in the redress scheme are "still going through a process which may lead to legal action". 
Mr Masding said the bank in a "turnaround story" with a focus on the Irish domestic market, adding that he was upbeat on its future direction.
"There's much still to be done and further challenges to be met but we have made a good start and are in a good position," he added. 
Permanent TSB said it has made significant progress and delivered a much improved financial performance in 2015.
It noted that the growth in the Irish economy provides a strong backdrop for its targeted return to sustainable profitability.
"Nevertheless, challenges remain in the form of the increasing cost of regulation both in terms of cost and capital requirements, resolving legacy issues, limited housing and deteriorating market dynamics in the UK mortgage market," it added.
Shares in the bank closed 7.28% lower in Dublin trade today.