Food technology group Kerry has said its full year pre-tax profits rose by 8.5% on the back of strong growth across its business.
Kerry reported a pre-tax profit of almost €603m for the year to the end of December, with revenues rising by 6.1% to reach €6.1 billion for the year.
Trading profits for the year rose by 10% to €700m, while the company said its adjusted earnings per share rose by 8.2% to 301.9 cent.
Kerry is best known as the firm behind brands like Dairygold, Dennys and Cheesestrings.
But the majority of its revenue and profit comes from its taste and nutrition division, which supplies flavourings and ingredients to food, drink and pharmaceutical companies.
The company said this area had grown well despite 2015 being a challenging year, though it noted that consumer demand has remained weak.
It said its Kerry Foods division performed well on the back of the improved conditions in the UK and Irish markets and growing consumer demand for snacking and convenience offerings.
Kerry said it was proposing a final dividend of 35 cent, which will bring the total dividend for the year up to 50 cent, up 11% on the previous year.
Shares in the company closed 4.46% higher in Dublin trade today.
"In a record year of business development in 2015, the group achieved a strong financial performance, delivering continued business margin expansion and 8.2% growth in adjusted earnings per share," commented the company's chief executive Stan McCarthy.
Mr McCarthy said the company expects to achieve 6% to 10% growth in adjusted earnings per share in 2016 taking into account a 3% currency headwind at today's exchange rates.
Breaking down the company's divisions, Kerry said that revenues in its Taste and Nutrition rose by 4% to €4.716m while trading profits grew by 11.9% to €663m. The division accounted for 76% of group revenue and 84% of its trading profit.
In the Americas, Kerry said that demand for innovation grew in wellness, nutrition and snacking categories, and to meet "eating out of home" market requirements. The division was also boosted by a number of strategic acquisitions, including KFI Savory, Wynnstaff Flavors and Red Arrow Products.
However, the Latin American markets were impacted by significant currency devaluation, especially in Brazil.
Kerry noted that the overall deflationary environment continued to heighten competitiveness in European, Middle East and Africa markets. Geopolitical instability also continued to restrain development in regional developing markets, it added.
But it said the setting up of the group's Global Technology and Innovation Centre in Ireland during the year, supported by its Development and Application centres in Moscow, Dubai and Durban, led to a significant increase in customer engagement and innovation.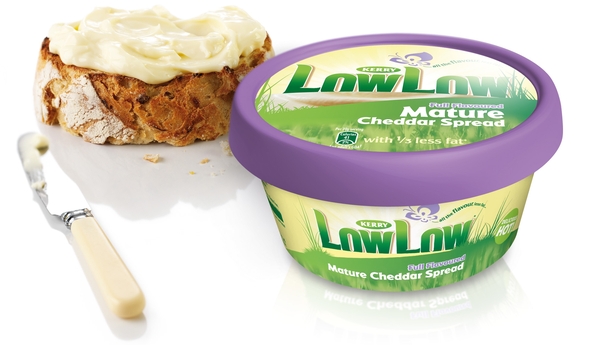 The new centre in Naas, Co Kildare also houses the company's nutrition discovery centre and is the focal point for its commercial, technical, nutritional science and strategic marketing teams.
Meanwhile, revenues at Kerry's Consumer Foods division rose by 3% to €1.476 billion, while trading profits inched 0.2% higher to €126m.
Kerry noted that consumer confidence has continued to grow in both the Irish and UK consumer foods market as the two economies improve. But it added that overall trading conditions remain highly competitive due to market polarisation and fragmentation, as well as deflationary trends.
It said that its Brands Ireland business performed well in the Irish grocery market, which returned to growth last year. Dairygold maintained its brand leadership position in the Irish spreads market and LowLow also consolidated its position as the brand leader in the low fat cheese and spreads sector.
Its Charleville cheese brand saw good growth, while international markets provided further growth opportunities for the Cheesestring range which are now sold in eight European markets.