Bank of Ireland increased its profit last year by 30% due to growth in new lending and a recovery in the money it set aside for bad loans, and said it would restart dividend payments next year.
The bank reported an underlying profit of €1.2 billion for 2015, up 30% on the previous year's figure of €921m.
It said it remained the largest lender in the country with almost €7 billion of new loans issued during the year, while it also had a 27% share of the savings market.
Bank of Ireland said all of its trading divisions were profitable during the year, while it has also continued to strengthen its capital position.
As a result of its improving performance, Bank of Ireland said it would aim to recommence dividend repayments in the first half of 2017, in respect of this financial year.
In its results statement, it said the dividend would be at a modest level, and will "prudently and progressively" build over time towards a payout ratio of around 50% of sustainable earnings.
The bank's share price closed up 5.26% in Dublin trade today.
Speaking to RTÉ News, Bank of Ireland's chief executive Richie Boucher said that he wants to remain with the bank for the foreseeable future.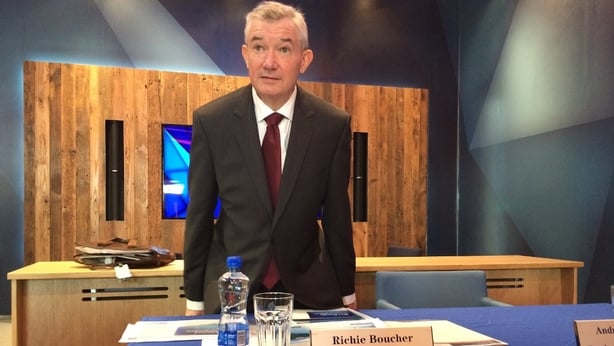 "I'm still enjoying the role, it obviously has challenges like most jobs but I'm enjoying it," he said.
"The bank is now in a different phase, we've come through the restructuring which I was a part of and I'd like to be a part of the team that helps us into this next phase."
Mr Boucher also said he will cease waiving any of his pay. In the coming weeks, the bank will publish its annual report, which will include details of his pay and pension.
It will show his salary, benefits and pension payments were €961,000 for 2015.
Bank of Ireland's non-performing loans decrease by €3.8 billion
In its results statement today, Bank of Ireland said that its asset quality continued to improve during the year.
It reduced its non-performing loans by a further €3.8 billion, adding that it anticipates further reductions in non-performing loans this year and beyond.
The bank said it continues to be "very focused" on the resolution of Irish mortgage arrears and SME loans in arrears.
It noted that more than nine out of ten "challenged" owner occupier Irish mortgage customers with restructuring arrangements continue to meet their agreed repayments.
Customer loan impairment charges for the year fell to €296m from €542m in 2014, with reductions seen across all of the bank's asset classes.
The bank also said that its liquidity position continues to be "robust", with customer deposits now funding over 90% of its customer loans. Its wholesale funding requirement also reduced further to €14 billion during the year.
"With our strong franchises, we are well positioned to meet credit demand which is recovering as the Irish economy grows and confidence returns," commented the bank's CEO Richie Boucher.
He said the bank continues to generate capital at a "significant pace" with a 200 basis points increase to 11.3% in its fully loaded common equity tier 1 ratio.
"The strength and momentum in our businesses gives us confidence in the group's prospects and in our ability to continue to focus on our duty to responsibly develop our profitable, long term franchises and better serve our customers in a way that delivers attractive sustainable returns to our shareholders," Mr Boucher added.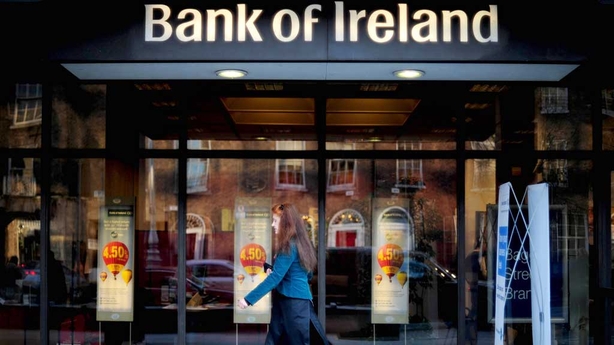 In its results statement, Bank of Ireland said that its Retail UK division was now growing and was well positioned to benefit from the UK economic recovery, and over time, higher interest rates.
The division's financial performance improved last year, with underlying profit before tax up 37% to £140m.
It noted that it achieved good momentum through the UK's Post Office branded direct and intermediary channels, adding that its foreign exchange joint venture with the Post Office remains the largest provider of consumer foreign exchange in the UK with a 24% market share.
A new long term financial services partnership with AA was also announced during the year.
Meanwhile, Bank of Ireland's Corporate and Treasury division reported a 15% increase in underlying profit before tax to reach €637m.
It said it saw new lending volumes of over €1.8 billion, adding that it was able to support a big increase in acquisition and general investment activity in the Irish mid-corporate market.