The number of people on the Live Register fell by 4,800, or 1.5%, in January.
The latest figures from the Central Statistics Office show that, on a seasonally adjusted basis, the number of people on the register has reduced to 323,200.
In unadjusted terms there were 321,802 people signing on the Live Register in January, representing an annual decrease of 36,870, or 10.3%.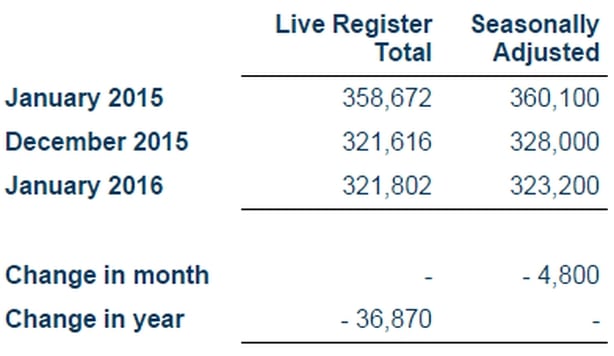 During the month the number of men claiming social welfare fell by 3,500 (1.8%), while the figure for women dropped by 1,200 (0.9%).
The CSO data also shows that for the 12 months to the end of January 2016 the number of male claimants decreased by 26,922 (12.3%) to 191,756, while female claimants decreased by 9,948 (7.1%) to 130,046.
This compares with a decrease of 30,045 (12.1%) to 218,678 for males, while female claimants decreased by 10,913 (7.2%) to 139,994 in the year to January 2015.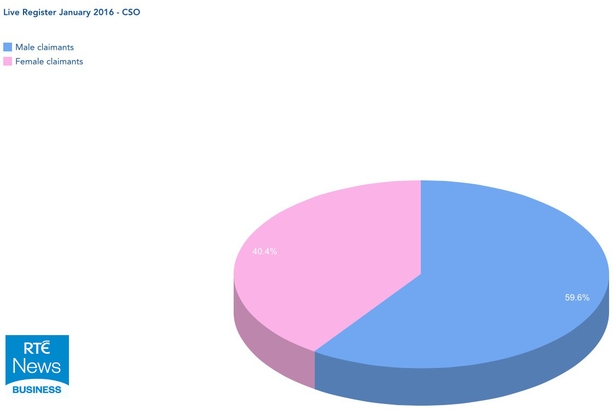 Commenting on the figures ISME CEO Mark Fielding said: "Government wants to attain full employment but they have forgotten the needs of those who actually create most of the jobs - SME owner-managers.
"The increase in the minimum wage, despite evidence showing it was unwarranted, is hindering employment growth and the prospect of further knock on increases is even more of a disincentive to expansion. The minimum wage increase has led to unrealistic pay demands across all wage levels.
"These obstacles will need to be addressed if we are to make a serious dent in live register figures over the course of the next Dáil term," he added.
---
Explainer: Key terms
What is the Live Register?
The Live Register is used to provide a monthly series of the numbers of people registering for unemployment assistance or for various other statutory entitlements at local offices of the Department of Social and Family Affairs.
What is seasonal adjustment?
Specific movement with regard to figures is affected by many seasonal factors, such as: Summer peaks, one-off strikes, and short-term trading.
The aim of seasonal adjustment is to identify the regular patterns and remove them from a time series leaving only the irregular component. This process is known as filtering and makes comparisons of successive observations more reliable.