New figures from the Central Statistics Office show that on a seasonally adjusted basis, the numbers signing on the Live Register fell by 3,700 in September to stand at a total of 337,300.
The CSO said that in unadjusted terms, 332,801 people were on the Live Register last month, down 37,249 (10.1%) on an annual basis.
Earlier this week, the CSO said the seasonally adjusted unemployment rate for September was 9.4%, down from 9.5% in August and a reduction from the figure of 10.9% the same time last year.
The Live Register number is down from a 2010 peak of 450,000 and the unemployment rate has fallen from a peak of over 15% in early 2012. 
Today's figures from the CSO show the number of male claimants on the Live Register fell 12.1% to 197,547 in the year to September, while female claimants decreased by 6.9% to 135,254.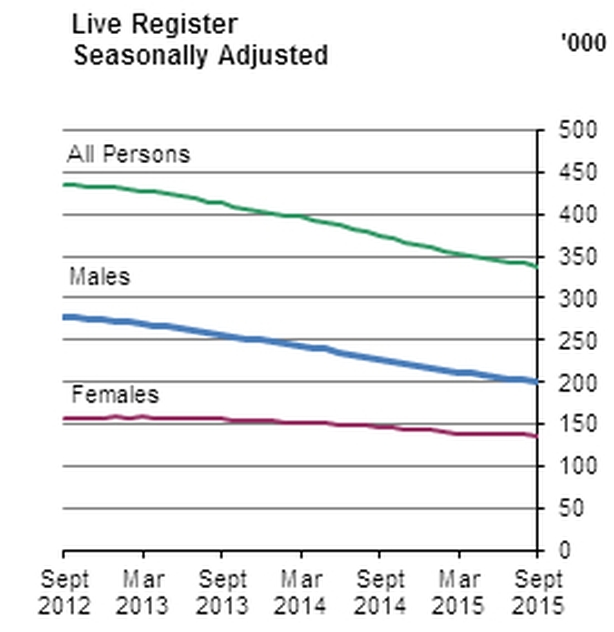 They also reveal that the number of long term claimants on the Live Register stood at 156,854, down 12.1% on the same time last year. 
The number of male long-term claimants decreased by 15% on an annual basis, while the number of female claimants fell by 6.4%.
Meanwhile, the number of people aged 25 who were signing on decreased by 8.7% in the 12 months to September, and the number of people under 25 decreased by 18.1%.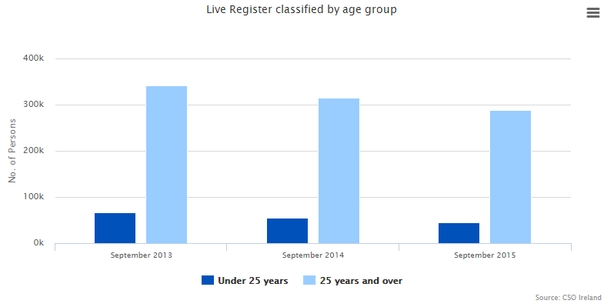 The CSO noted that annual decreases in youth unemployment have been seen every month since July 2010.
The percentage of people aged under 25 on the Live Register now stands at 13.6%, down from 14.9% in September of last year and 16.2% in September 2013.