Mobile phone company Vodafone has delivered its sixth consecutive quarter of underlying revenue growth, as Germany and Italy led an improvement in Europe, its biggest regional business.
The world's second largest mobile operator met expectations with a 1.4% rise in underlying revenue in its third quarter ended December 31.
It said it was helped by a more stable pricing environment and growing demand for data traffic.
Vodafone also said it was on track to deliver full-year earnings before interest, tax, depreciation and amortisation of between £11.7 billion and £12 billion pounds.
This compares with a reported EBITDA of £11.92 billion last year and the average of analysts' forecasts of £11.6 billion.
Under 'Project Spring', Vodafone has committed to spending £19 billion on building 4G high-speed networks in Europe and fast 3G networks in emerging markets.
It will also buy up fixed-line networks in markets where consumers are increasingly opting for bundles of pay-TV and telecoms services.
The company said today it was still making "steady progress" towards returning to underlying revenue growth in Europe - the decline slowed to 0.6% in the last quarter, from 1% in the second quarter - but some analysts want a harder push into converged services.
Last year it was in talks with pay-TV cable group Liberty Global about a tie-up or exchange of assets that could have covered as many as seven European markets, but they failed to reach agreement on a deal.
Earlier this week Vodafone said that talks had resumed, but this time were limited to the idea of creating a joint venture in the Netherlands.
The company's chief executive Vittorio Colao declined to say more today, or if similar joint ventures made sense elsewhere.
"Every market is different," he said. "We are very pragmatic, we do whatever it takes to give better services and have better returns."
In its emerging markets division, which contribute about a third of revenue, Vodafone said underlying revenue rose 6.5%, thanks to strong performances in South Africa, Turkey and Egypt.
"The market that slightly disappointed us this quarter is India, where we have slowed down," Colao said.
"There has been quite a bit of pressure on voice (and) there has been quite some pressure on data, but we had a very good quarter in terms of net additions," he said after reporting revenue growth in India slowed to 2.3%in the third quarter from 5.6% in the second.
Meanwhile Vodafone said adverse moves in exchange rates in both Europe and its emerging markets proved a headwind for the group's overall revenue performance, knocking reported revenues down by 7.9 percentage points in the last quarter.
Vodafone is due to switch to reporting in euro in its next financial year, as more than half of all its revenue now comes from euro zone markets.
Vodafone Ireland's quarterly service revenue up 3.4%
Vodafone Ireland also reported its second quarter of consecutive growth, with service revenue for the third quarter rising by 3.4% to €240.4m.
The company said that driven by a return to growth in mobile with improving trends in both consumer and enterprise as well as continued strong momentum in its fixed business.
It said it increased both its fixed and mobile customers bases during the quarter as it added 13,000 mobile customers and 6,000 fixed broadband customers.
The company also noted a "significant" increase in the number of customers taking up Vodafone's enhanced 4G network with over 854,000 devices now G4 capable, up 12% on the same time the previous year.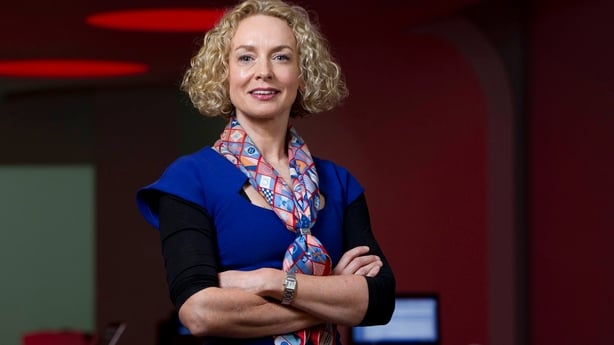 Its nationwide mobile network upgrade was also completed during the three month period, while it also increased its 4G coverage to 95% of the country.
"Our performance in this quarter continues the positive upward momentum in our financial year to date and reflects both the ongoing strength of our core mobile business, as well as the future growth potential across our converged service offerings," commented Vodafone Ireland's chief executive Anne O'Leary.
"The introduction of Vodafone LightSpeed Broadband during the period, as well as the more recent launch of Vodafone TV, signals a significant move towards delivering on our vision of Ireland as a gigabit society - connecting and digitising communities with high quality services at high speeds," Ms O'Leary added.