Ryanair has predicted that record passenger numbers will enable it to hit its annual profit target, despite falling ticket prices due to security alerts in Europe and cheaper oil.
The airline said today that average fares will continue to fall in the coming months as more airlines take advantage of lower fuel prices.
It also announced an €800m share buyback over the next nine months.
The company said its revenues for the three months to the end of December rose by 17% to €1.33 billion from €1.132 billion while profits after tax jumped 110% to €103m from €49m.
Passenger figures increased by 20% to 25 million with the airline's load factor rising by 5% to 93%.
Ryanair shares rose sharply in Dublin trade today, closing up 5.96%% on €14.50..
Ryanair had increased its full-year profit forecast by 25% in early September, citing poor summer weather in Northern Europe, weak sterling and the impact of improved customer service.
But security alerts after attacks in Paris in November and strong competition has since forced it to cut average fares.
Fares fell by 1% in the last three months of 2015 and will fall 6% in the first three months of 2016, the airline said.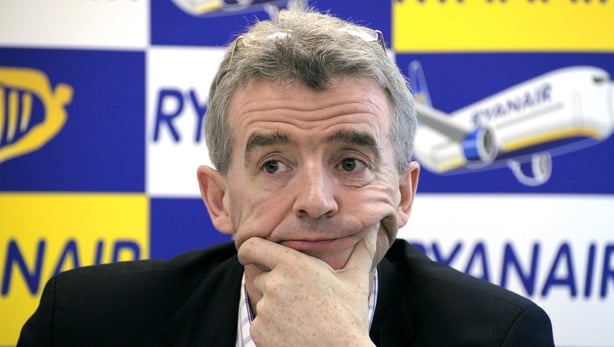 "We expect the lower fare environment to continue for the foreseeable future" with some respite during the summer months, the airline's chief executive Michael O'Leary said.
Rival EasyJet last week said its revenue per seat fell 3.7% in the three months to December 31 and that it would continue to fall in early 2016.
Mr O'Leary said he expected to pass on a "significant amount" of €430m of Ryanair's fuel cost savings, but that would be offset by a further 8% increase in passenger numbers in 2016.
Ryanair last year was the first airline in the world to carry 100 million international passengers and today it increased its forecast for its financial year to March 31 to 106 million from 105 million.
It said it plans to carry 26% more passengers in the first three months of 2016 compared to the same time last year.
The airline re-affirmed its expectation to post net profit at the upper end of a range of €1.175 billion to €1.225 billion for its financial year.
The company's CEO said that the current forecast was heavily dependent on a strong Easter and the presumption there will be no major militant attacks in Europe.
Ryanair will start its €800m share buyback in the coming days, but said it had no plans to commit to a regular dividend or share buy back, and that these would be ad hoc.
Speaking on Morning Ireland today, Ryanair's chief marketing officer Kenny Jacobs confirmed that the airline has hedged its oil price exposure at $80 a barrel for 2016, adding that the airline was happy with that level of hedging.
He said Ryanair likes certainty on fuel costs - adding that as oil costs get cheaper, the dollar gets more expensive
The airline also said it had taken advantage of the recent steep falls in oil prices to extend its fuel hedges into 2018 and it is just over 50% hedged for the first half of the year at $52 a barrel.
For 2017, the company said it is hedged at about $62 while the euro-dollar currency rate is hedged at $1.17, which it said will deliver fuel savings of about €430m during the year.