Production for manufacturing industries for November was down 0.6% on October figures, according to latest data from the Central Statistics Office.
Year-on-year production last November increased by 11.3% when compared with the same month in 2014.
The seasonally adjusted volume of industrial production for manufacturing industries for the three months from September to November was 3.8% higher than in the preceding three month period.
Meanwhile, the CSO data also shows that the "modern" sector showed a monthly decrease in production for November of 1.5%, and an annual increase of 14.0% when compared with November 2014.
Within that sector, the highest annual growth was in the computer, electronic and optical products sector.
In the five months from July to November last year, the volume of production in that sector more than doubled, when compared with the corresponding months of 2014.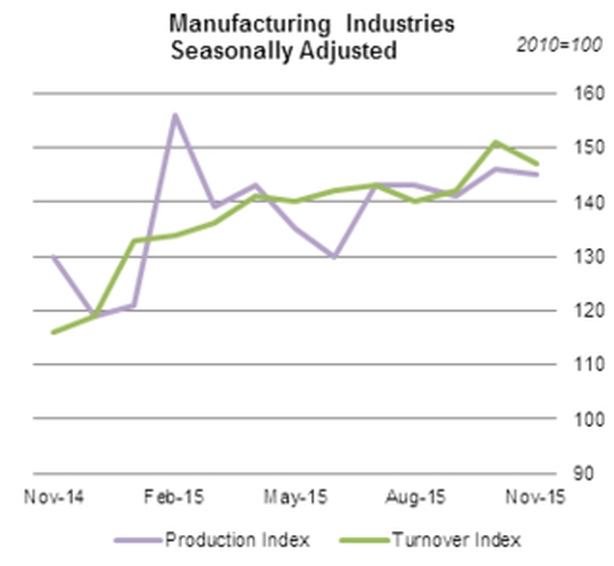 The volatility of the production and turnover indices for the modern sector reflects the changes from month-to-month in production patterns, product mix, sales, pricing and stock building or reduction.
The sector includes chemicals and pharmaceuticals; computer, electronic, optical and electrical equipment; reproduction of recorded media; and medical and dental instruments and supplies.
There was a monthly increase of 0.9% in the "traditional" Sector for November, and an annual increase of 7.9% compared with November 2014.
There was a decrease of 2.6% in the seasonally adjusted industrial turnover index for manufacturing industries in November when compared with October.
Annually, turnover increased by 26.7% when compared with November 2014.
Commenting on the CSO data, Alan McQuaid from Merrion Economics said: "Clearly, the strong output performance in 2015 can to some degree be explained by the production of goods abroad on behalf of Irish-domiciled multinationals, though this so-called "contracted production" has less impact on tax revenue and jobs in Ireland."
He added that: "Although there remain concerns about the underlying health of the global economy, particularly China, we think overall growth will hold up this year, particularly in the US and UK, which is good news for Ireland.
"Furthermore, only a very small amount of total Irish exports go to China, and the Irish PMI data remain positive. Indeed, the manufacturing PMI has been in expansionary territory for more than two years running up to December."