Up to 170,000 people will attend the world's largest annual consumer electronics trade show which got under way in Las Vegas today.
More than a dozen Irish technology companies are among the 3,000 exhibitors at this year's CES.
Now in its 48th year, CES is the biggest and most influential gathering of technology companies in the world each year.
Manufacturers, buyers, investors, analysts and the press come together at the event for the unveiling of new products and to establish what the latest trends are in the industry.
While the 35 football fields of exhibition space officially opened today, many of the large manufacturers have already made their biggest product announcements.
Connected and self driving cars, drones, virtual reality and wearable devices are among the trending topics this year.
A number of Irish companies are trying to make an impact on the global stage.
This is no easy task among the over 3,000 exhibitors all vying to be the next big thing in the lucrative world of consumer electronics.
Samsung's new TVs, tablet and smart fridge
Samsung has unveiled a host of new products at CES, including TVs, a tablet, smart watches and a fridge with a 21.5 inch touch screen on its door.
The smart screen on the Family Hub Refrigerator can be used for a range of tasks, like displaying photos, calendar updates, notes and reminders.
There are also three cameras inside the fridge which takes a picture each time the door is closed.
The images can then be accessed remotely, like at the supermarket for example, so the user can see what is inside it.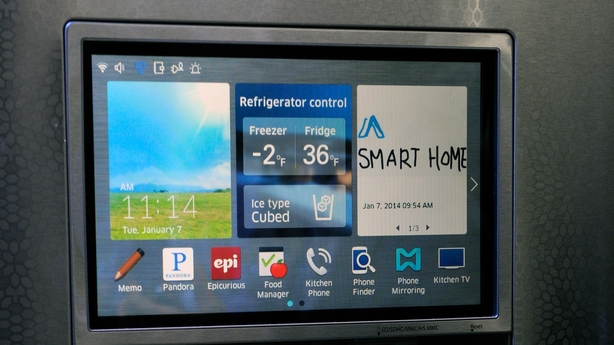 Samsung also announced a partnership with MasterCard to enable users to order shopping from the fridge.
The company revealed its 2016 range of TVs, including SUHD models with Quantum Dot Display ranging in size from 49-88" and one with an 8K display.
It also announced a SmartThings adapter which can be plugged into the USB port on a TV to transform it into a hub for controlling connected devices.
The electronics giant revealed a new large Windows 10 based tablet, the Galaxy Tab Pro S.
The new tablet has a 12" Super AMOLED HD display and an Intel Core M processor, as well as a full size detachable keyboard.
The company's family of Gear S2 smartwatches has also been expanded to include an 18 carat gold and a platinum plate edition.
It also announced the AddWash family of washing machines, which allow users to open the door in the middle of a wash cycle to add items.
Sorry to miss @BTYSTE 2016. But wouldn't surprise me if decade from now some entrants are here at #ces in Vegas with their own companies.

— Will Goodbody (@willgoodbody) January 6, 2016
Ford to triple its autonomous driving vehicle testing fleet
Ford is to triple the size of its autonomous driving vehicle testing fleet as it ramps up efforts to become a leader in the self driving car market.
Speaking at CES, Ford CEO Mark Fields said the company had moved from a phase of research and development into autonomous vehicles to one of advanced engineering.
The company's chief technology officer, Raj Nair, said the goal was to achieve vehicles that were fully autonomous within defined environments, leading in time to full autonomy in all conditions.
Ford said it is working with a range of different organisations to achieve its goal, but stopped short of confirming a rumoured tie up with Google's self driving car unit.
However, it did reveal a new sensor system to be used on its autonomous vehicles made by Velodyne.
The company also announced a new partnership with Amazon.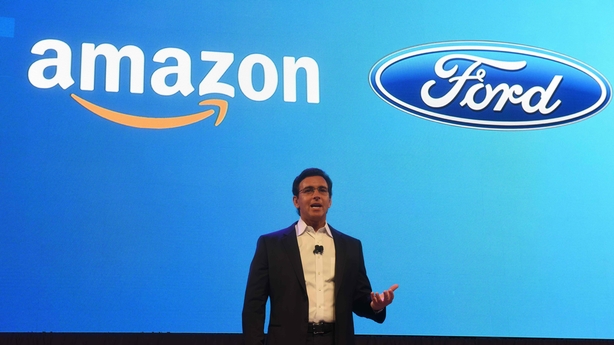 Through the new deal, users of the Amazon Echo virtual assistant speaker system will be able to connect to Ford's in car Sync Connect system.
This will enable them to control smart devices in their home from their car, and connected systems in their car from their homes.
Using touch and voice commands, for example, they will be able to open garage doors, turn on lights or adjust thermostats from their cars.
Ford also announced that Google's Android Auto and Apple's Car Play will be supported by the next generation of Sync Connect.