Digicel's bonds fell by as much as 3.8%, the biggest drop since last year, after the Denis O'Brien-owned company abandoned plans to raise as much as $2bn in an IPO scheduled to price today in New York.
According to Bloomberg, the company said last month it would use about $1.3bn of the proceeds from the sale to repay some of its $6.5bn debt, with the rest earmarked to finance expansion through acquisitions and capital spending.
Commenting on the Digicel decision, Credit analyst at Legal & General Investment Management in the US Stanley Martinez said: "It is a disappointment for creditors as the flotation would have improved Digicel's strategic flexibility as much as its liquidity.
"The debt reduction indicated in the prospectus would have represented a step change and made their credit quality more comparable with peers such as Cable & Wireless," he added.
Mr O'Brien has said the board made the right decision in postponing a planned stock market flotation of the company.
In an interview with CNBC, Mr O'Brien said Digicel would come back and try again when "market conditions are right for the business".
He said the process started six months ago and volatility in emerging markets, as well as high discounts demanded, contributed to the decision.
He described emerging markets as "a bit choppy at the moment".
The telecoms company did not hit its share price target and therefore decided not to sell its shares.
Mr O'Brien said: "We didn't need to do it" and it was "a great feeling not to need any funding".
He added Digicel expects the markets to settle in the next three to six months, at which point the company may reattempt a stock market flotation.
In response to a question on Digicel's cashflow situation, Mr O'Brien said: "We're very comfortable" and the company is "generating a huge amount of cash".
In a statement last night, Mr O'Brien said floating Digicel was predicated on achieving a fair value for the company. But he said recent volatility had seen a series of flotations joining the stock market at lower than expected prices.
The Digicel boss said this was now a less attractive route for the company.
The recently-ended third quarter was the worst in terms of US stock market performance since 2011. Five companies which listed in the past week all did so below their expected price range.
Digicel's initial public offering of its shares would have been the second biggest in the US so far this year. It becomes the 46th company this year to pull an IPO - that figure is eight higher than at the same point last year.
The Digicel flotation had been intended to raise funds to pay off some of the company's $6.5 billion debt and it had been expected to raise almost $2 billion.

In his statement Mr O'Brien said Digicel did not have to pay off any debt until 2021.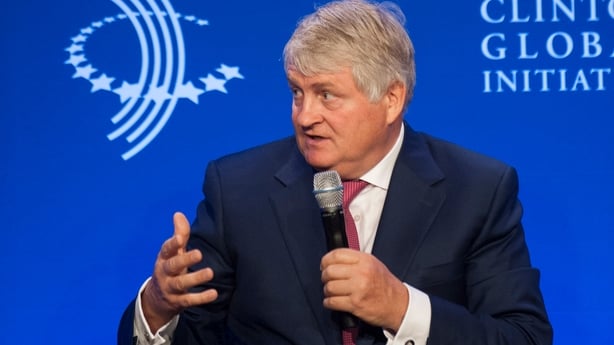 Although the market conditions were not especially favourable, analysts had also questioned the proposed valuation ahead of the float.
Digicel, which carries over $6 billion in debt, lost $157m over the 12 months to March and revenue had been flat or in decline in some of its biggest markets.
That has led to some comment in the market over its attractiveness as an investment at the price range indicated by the company.
In a statement, Denis O'Brien said despite the setback, Digicel's growth plans remain unchanged.
"We remain in a strong position to exploit areas of interest in: data, business solutions, cable TV and broadband," he said.
Digicel was founded in 2001 in Jamaica by Mr O'Brien and it provides wireless services to 13.6 million subscribers in 31 markets in the Caribbean and South Pacific regions.