Volkswagen has named Porsche chief Matthias Mueller as its new CEO, according to the car manufacturer's supervisory board.
In a statement following the announcement, Mr Mueller said VW has the chance to emerge stronger from this crisis thanks to its strong brands, as well as its highly competent and motivated workforce.
The VW board has been discussing a new corporate structure, in addition to choosing Mr Mueller as a replacement for former chief executive Martin Winterkorn, who resigned this week.
Today's board meeting comes as the world's biggest car maker grapples with its most significant business crisis in its 78-year history.
Last week the company admitted to rigging emissions data for its diesel vehicles.
Two of the sources said the meeting was taking longer than expected.
The crisis at the car maker deepened yesterday as officials in Europe and the US stepped up their investigations.
Germany's transport minister said Volkswagen had manipulated tests in Europe too.
Alexander Dobrindt this afternoon said that around 2.8 million vehicles in Germany were affected by Volkswagen's rigging of diesel emission tests.
"It's now clear that vehicles in Germany are affected by these manipulations.
"Based on our current knowledge they are vehicles with 2.0 litre and 1.6 litre diesel engines," he told Germany's Bundestag lower house of parliament.
He also said there was a discussion about 1.2 litre diesel engines being affected.
Mr Dobrindt earlier said Europe would agree on new emissions tests in coming months that should take place on roads, rather than in laboratories, and that random checks would be made on all manufacturers.
Separately, a group of at least 27 US state attorneys general launched a multi-state investigation of Volkswagen's representations to consumers about its diesel vehicles, and said it will send subpoenas to the car maker.
Volkswagen has said 11 million cars globally had the software fitted, but it was not activated in the bulk of them. The car maker estimates around 5 million cars worldwide are affected.
As well as the cost of regulatory fines and potentially refitting cars, Volkswagen faces criminal investigations and lawsuits from cheated customers and possibly shareholders.
More immediately, the new CEO will have to restore the confidence of customers and motor dealers, who have expressed frustration at a lack of information about how they will be affected by the scandal.
The board will also dismiss the head of the company's US operations and top engineers at its Audi and Porsche brands, a senior source told Reuters, as it seeks a fresh start.
Mr Mueller, who has worked for parts of the Volkswagen empire since the 1970s, is a management board member of Porsche and so is close to the Piech-Porsche family that controls Volkswagen through the holding company.
The company is under pressure to act decisively, with German Chancellor Angela Merkel urging it to quickly restore confidence in a business held up for generations as a paragon of German engineering prowess.
"There will be further personnel consequences in the next days and we are calling for those consequences," Volkswagen board member Olaf Lies told the Bavarian broadcasting network.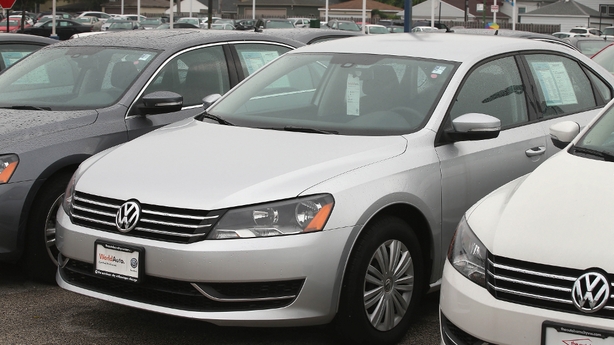 The research and development chiefs of Audi and Porsche, Ulrich Hackenberg and Wolfgang Hatz, will be removed by the supervisory board, as will Volkswagen's top executive in the US, Michael Horn, the senior source told Reuters.
Hackenberg and Hatz had both held senior posts at VW in development, including of engines, before they switched to Audi and Porsche. They are among Volkswagen's top engineers.
Horn acknowledged this week that the company had "totally screwed up" by deceiving US regulators about how much its diesel cars pollute. The scandal has sent shockwaves through the car market, with manufacturers fearing a drop in demand for diesel cars and tougher regulations and customers worrying about the performance and re-sale value of their cars.
The European Commission urged all member states to investigate the use of so-called defeat devices by carmakers to cheat emissions tests and said there would be "zero tolerance" of any wrongdoing.
So far, no other carmaker has been found to have used the devices. German rival BMW said yesterday it had not manipulated tests, after a magazine reported some of its diesel cars were found to exceed emissions standards.
Today's board meeting had originally been due to extend the contract of Mr Winterkorn and set out a new management structure.
Though Mr Winterkorn oversaw a doubling in sales and a near tripling in profit during his eight-year reign, he faced criticism for Volkswagen's under-performance in the US and for a micro-management style that critics say delayed model launches and hampered its ability to adapt to local markets.
Analysts said a new management structure, possibly more decentralised but also with a clearer system of checks, was all the more urgent, with top executives apparently unaware of the emissions test cheating despite a tight control on decisions.
Meanwhile, the US environmental regulator said Friday that Volkswagen's diesel cars for the new 2016 model year have not yet been authorized for sale in the United States.
The Environment Protection Agency said neither it nor the California Air Resources Board were ready to permit the new models on the road after recent model diesel VWs were shown to have "defeat devices" designed to get around tough emissions rules.