Ryanair has upgraded its full year profit forecast by 25% to a range of between €1.175 billion and €1.225 billion, sending its shares higher in Dublin trade.
The airline had originally forecast a range of €940-970m.
The upgrade comes as a result of stronger than expected peak summer traffic and prices.
Ryanair reported half yearly traffic growth of 13%, while fares were up over 2%.
These figures were due to be released on 24 September but the company said it had brought the release forward due to the fact that the strength of its July and August numbers had continued into September. 
However, Ryanair Chief Executive Michael O'Leary issued a word of caution that not all of this improvement was due to either the airline's model or its management.
Mr O'Leary said the airline had clearly benefited from favourable industry trends this summer including bad weather in Northern Europe, stronger sterling encouraging more UK families to holiday in the Med, reasonably flat capacity across the EU industry and lower prices for its unhedged oil.  
"Being the airline industry we do not expect these favourable conditions will persist, and we would urge shareholders and analysts to avoid irrational exuberance while we continue to execute our very ambitious growth plans during what we expect to be very attritional and sustained fare wars across Europe this winter," he added.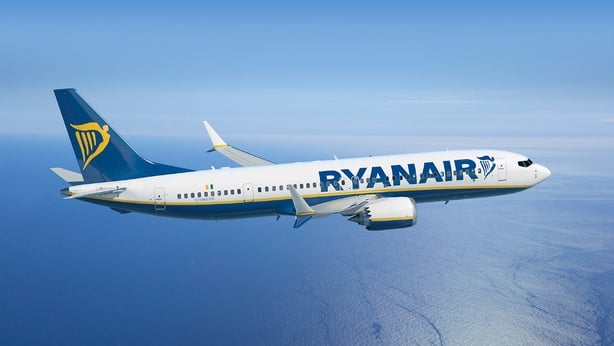 Ryanair said it still expected sustained fare wars across Europe this winter, but added that fares in the three months to the end of December would be flat, withdrawing an earlier forecast that they would fall by between 4-8%.
The airline also confirmed today that it has successfully recovered all of the funds - less than $5m - that were the subject of a fraudulent electronic transfer to a Chinese bank in April.  
It said that steps have been put in place to ensure that such a transfer cannot recur.
Ryanair's main rival easyJet last week raised its annual profit outlook after record demand for beach holidays and city breaks, saying profit growth would be up to 21% for the year to end September, compared with a previous forecast of up to 14%.
Lufthansa, which Ryanair is targeting with a major expansion in Germany, said last week it had experienced its strongest summer ever, with business substantially better in July and August than expected. 
Shares in the company had soared as high as 10% in earlier Dublin trade today and were up nearly 5% at the close.