Ryanair's profits surged 66% in the year to March as passenger numbers grew by almost three times the targeted level, due to improved service and lower fares.
Ryanair's passenger numbers increased 11% to 90 million, compared with the 4% targeted at the start of the year.
This saw profits rise at a much faster rate than the more modest 10% growth predicted for this financial year. 
A total of 100 million passengers are expected to fly with the airline in the current fiscal year. 
Europe's largest airline by passenger numbers said its profit after tax hit €867m and would reach between €940-970m this year. A Reuters poll of analysts had forecast profit of €866m. 
The airline's management said most of the growth was down to its 'Always Getting Better' programme, which is aimed at turning around its reputation for poor customer service.
              
Management credited the programme, which has brought in lower fees, flexible tickets for business travellers and a move away from small regional airports, for boosting average load factor - a key industry measure - by 5% in the year to March. 
Revenues for the year rose by 12% from €5.037 billion to €5.654 billion, while the airline's basic earnings per share jumped 69% to 62.59 cent.
              
Ryanair said its fares would be "broadly flat" in the six months to September. Its main rival EasyJet has said revenue per seat would be down by about four percentage points in the three months to June. 
The airline said it expects to increase passenger numbers by 10% in the year to March 2016, with around half of this at primary airports and the remainder at smaller regional airports. Forward bookings to September are on average 4% ahead of last year, it said.
"Our Always Getting Programme is transforming our customer experience, our service, and the way we listen and respond to our customers. We have won substantial traffic and share gains in all markets," commented the company's chief executive Michael O'Leary.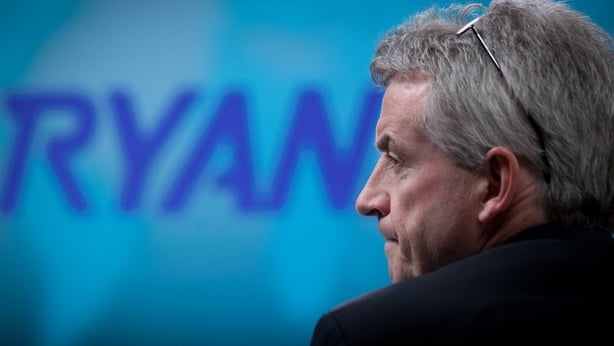 He noted that the airline is now the number one or number two airline in most EU countries, except France and Germany where it is a rapidly growing number three.
Mr O'Leary said that while Ryanair's traffic growth will be strong, it would be "foolish" not to expect some "irrational" pricing response from competitors who cannot compete with it. He said that Ryanair will remain "vigourously load factor active/price passive".
He said that even with the benefit of lower oil, aircraft and financing costs the airline may suffer periods of fare/yield weakness, especially in the second half of its financial year.
"This is why our yield guidance remains cautious at broadly flat in H1 but down 4% to 8% in H2 for a forecast FY yield decline of 2%," he added.
              
Ryanair again declined to comment on whether it planned to accept an offer by British Airways owner IAG for its 30% stake in Aer Lingus. 
              
The bid has stalled as IAG waits for the Government, which owns 25% of Aer Lingus, to commit to selling. The Government has said Ryanair's attitude was key to its decision.
              
"The board of Ryanair will consider any offer from IAG on its merits, if or when it is received," Ryanair's chief executive Michael O'Leary said.
Mr O'Leary also said today that the cost of the French air traffic strikes earlier this year to Ryanair was "around €5m". 
Speaking at a press conference in Dublin this morning, Ryanair's chief marketing officer Kenny Jacobs said the airline would match competitors' prices in order to achieve a 90% load factor.
The airline also defended its policy of hedging 90% of its oil purchases at $92 a barrel to give certainty to shareholders.
Its chief operating officer David O'Brien said the airline had a counter hedge in that it had bought its new aircraft at cheaper dollar rates than are available at present.
The airline also said that an exit of Greece from the euro zone would not affect customer demand.
Mr Jacobs said there was a possibility that demand would increase owing to a devalued, cheaper currency.
Shares in Ryanair were 5.4% higher in Dublin trade today.