Minister for Transport Paschal Donohoe has said an interdepartmental expert group is to make contact with IAG to assess the issues surrounding its potential offer for Aer Lingus.
The minister pointed out that the group had made a proposal to make an offer and that no formal offer had yet actually been made.
Mr Donohoe said it was up to IAG to spell out its intentions regarding Aer Lingus in the event of it making an offer.
He said he would come back to the Government with recommendations that would be in the long-term interest of the economy and the country.  
Any decision would be taken on other issues besides the share price, including connectivity, competition and the effect on employment in the airline, he added. 
Meanwhile, SIPTU, the largest trade union in Aer Lingus, is calling on the Government not to sell its share of the airline unless there are guarantees on jobs.
IAG, the owner of British Airways and Iberia, is offering just over €1.3 billion for the airline, of which the State owns a 25.1% stake and rival Ryanair holds almost 30%.
Speaking on RTÉ's Today with Sean O'Rourke, SIPTU President Jack O'Connor said the sale would have far reaching implications for staff and, he said, they need to be protected.
The board of Aer Lingus has said it is willing to recommend to shareholders that they accept IAG's offer.
In a statement to the stock exchange this morning, Aer Lingus said its board has indicated that the financial terms of IAG's third proposal for the airline are at a level it is willing to recommend.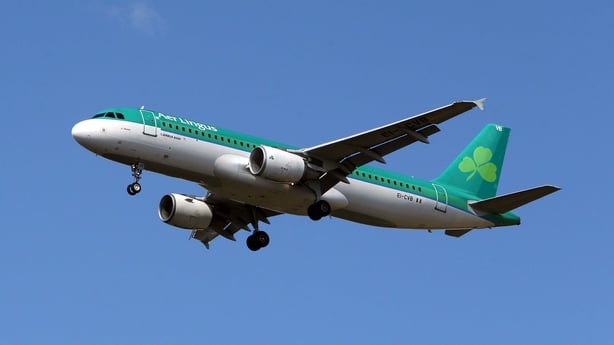 Yesterday, Aer Lingus said it was considering IAG's latest offer of €2.55 per share for the airline.
Aer Lingus said today that its board notes IAG's intentions regarding the future of the company, in particular that Aer Lingus would operate as a separate business with its own brand, management and operations.
It would also continue to provide connectivity to Ireland, while benefiting from the scale of being part of the larger IAG group.
Any takeover would have to be approved by the Government and Ryanair before it could proceed. Other notable investors include Etihad.
Two earlier bids of €2.30 and €2.40 per share from IAG were rebuffed by the Aer Lingus board in recent weeks.
Aer Lingus shares closed 2.1% higher in Dublin trade today.
In a statement, Ryanair said: "Our position has not changed. The Board of Ryanair will consider any offer on its merits, if and when an offer is made."
The Government is to announce tomorrow the financial and legal panel of experts that will support an interdepartmental group looking at the issues involved in the bid.
The Cabinet met today and discussed the recommended takeover offer.
Minister for Public Expenditure and Reform Brendan Howlin said the Government will consider very carefully all the issues in relation to the potential sale of its stake in Aer Lingus.
He said even if the Government kept all its 25% share it would be possible for an outside interest to have a controlling share in Aer Lingus.
He said growth, development and economic benefit for the people of Ireland would be critical to any decision the Government makes in relation to its minority shareholding.
Fianna Fáil's finance spokesman Michael McGrath has said any plan to sell Aer Lingus at this stage is ill-advised and short-sighted.
Speaking on RTÉ's Morning Ireland, he said Fianna Fáil was opposed to the proposed takeover due to concerns about the retention of the Heathrow slots and the risk of job losses within the company.
He said the party believes it is in the long-term interest of the State to maintain a strategic interest in the airline.
Mr McGrath also said assurances given at this time by IAG have to be viewed with a degree of scepticism, particularly as to whether the assurances are legally binding.
A statement from IAG this morning said that it believes its proposal for Aer Lingus would secure and strengthen the Irish airline's brand and long-term future within a successful and profitable European airline group.
It said it recognises the importance of direct air services and air route connectivity for investment and tourism in Ireland, adding that it will engage with the Government here in order to secure its support for the deal.
IAG said that if the deal goes through, Aer Lingus would join the oneworld alliance, of which BA and Iberia are members. The airline would also join the joint business that IAG operates over the North Atlantic with American Airlines.
It said this would leverage the natural traffic flows between Ireland and the US and the "advantageous geographical position of Dublin for serving connecting flows".
It said that a further statement will be made "if and when appropriate".
Heathrow slots a key focus of deal
IAG's interest in Aer Lingus stems from its desire for additional Heathrow runway slots as well as the opportunity to deliver more industry cost efficiencies. 
Aer Lingus is the fourth busiest operator at London's Heathrow behind British Airways, Lufthansa and Virgin Atlantic.
Its fortunes have improved in recent months and, under chief executive Christoph Mueller, the airline reported its strongest summer trading performance since the financial crisis, with operating profits up 19% to €112.9m in the quarter to the end of September. 
The airline carried nearly a quarter more long-haul passengers in the period than a year earlier, while increasing its revenue per seat. 
It plans to launch a new Dublin to Washington service in May and will also increase services on existing transatlantic routes. 
IAG was formed from the merger of British Airways and Iberia in 2011.
It has around 430 aircraft and employs more than 60,000 people. It is headed up by Willie Walsh, who was formerly CEO of Aer Lingus.
A restructuring programme at the previously loss-making Iberia has seen 2,500 staff leave the airline under a voluntary redundancy programme.
'Selling Aer Lingus to Willie Walsh is not just about money' - A blog by David Murphy