People who work remotely will see an income tax deduction of 30% of the cost of vouched expenses for heat, electricity and broadband.
In his Budget speech, the Minister for Finance said Government policy is to facilitate and support remote work.
Minister Donohoe said the measure will support living standards as the economy starts to recover.
"It will also be kept under review from the perspective of its interaction with the National Climate Policy Position," he added.
Today's Budget measures will see tax relief on vouched electricity and heating costs arising from remote working increase from 10% to 30%.
Relief on broadband costs is retained at 30%.
Employees can claim these reliefs if they work at home and their employer does not pay them a remote working allowance.
Current rules allow employers to pay an allowance of up to €3.20 per day, with no tax liability for the employee.
Marian Ryan, Consumer Tax Manager Taxback.com, said the increase in working from home reliefs announced in today's Budget was well flagged, but the monetary impact will not be huge, particularly for lower income workers.
Ms Ryan said that based on the assumption that people are paying average utility costs of about €1,000 for heating and electricity and €600 for broadband, the increase in relief will benefit higher rate taxpayers by about €103 and lower rate taxpayers by about €51.
"This is certainly a move in the right direction to support the migration from office to remote working, but we would certainly hope to see greater incentives and reliefs introduced in the coming years," she added.

---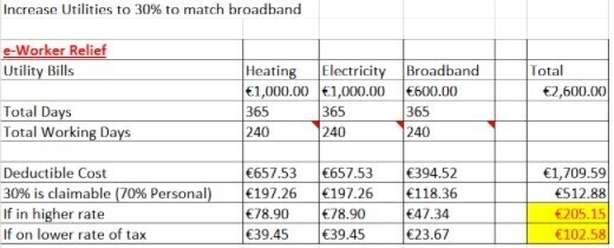 CIPD Ireland said the budget measure is disappointing and doesn't offer a strong incentive for workers or business to promote the practice.
Director of CIPD Ireland Mary Connaughton said: "Despite most workplaces being shut last year, only 42,000 people claimed under the electricity and heating expenses scheme in 2020, and received an average payment of just €26. Even under the measures announced today, the average amount paid back will rise no higher than €50 for the year.
"Breaking down costs by the room and by the day is impractical and offputting and it's likely the savings on commute time and expenses are of more value to employees."
The Fórsa union has welcomed the Budget announcement of improved tax relief for remote workers.
But the union said meeting the additional costs associated with remote working remained under discussion in talks on a long-term framework for 'blended working' in the public service.
Fórsa's general secretary Kevin Callinan said a successful outcome to these negotiations, which are currently under way, would be far more significant than the Budget measures in terms of realising the Government's 2021 Remote Working Strategy.
The strategy pledged to make remote working the norm for 20% of public sector staff.