Funding for the Department of Agriculture will be up by €32m next year with money to be provided to double the funding for animal welfare organisations and to establish the new Food Ombudsman.
A total of €1.85bn has been allocated for the department by the Minister for Public Expenditure Michael McGrath, who said he and Minister for Agriculture Charlie McConologue "are conscious of the special position" given to agriculture in the Programme for Government, as well as commitments made on carbon taxation.
The extra funding for the department will also allow the second phase of the soil sampling programme which is designed to give farmers more information about the quality of soil on their land, with future soil management in mind.
The establishment of an Office of National Food Ombudsman was a commitment given in the Programme for Government and is designed "to bring a greater level of transparency" to the food supply chain. The move was identified as a requirement following the beef protests of 2019.
Meanwhile, Minister for Finance Paschal Donohoe said that the Department of Agriculture is "confident" that stock reliefs for young farmers and farm partnerships will continue after next year.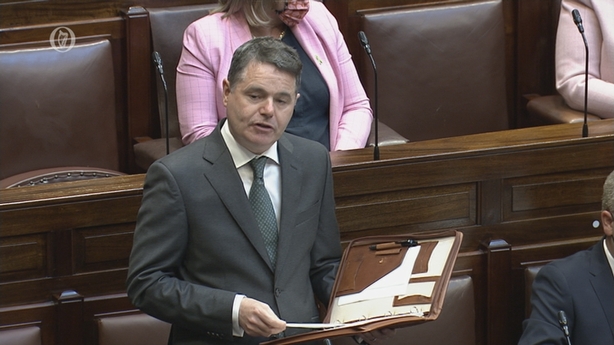 At the moment, specific reliefs for young, trained farmers and farm partnerships are considered State aid by the EU and while they are allowed under agriculture-related exemptions, this is due to end by December 2022.
However, Mr Donohoe said the Department is confident that such reliefs will continue to be considered an "acceptable" form of State aid and that further extensions will continue after next year.
Stock reliefs are tax deductions for farmers based on increases in their trading stock, such as livestock and crops.
General stock reliefs have been extended to 2024. Reliefs for young farmers and partnerships are designed to encourage young, trained farmers to stay on the land and to encourage farm families to remain in operation.
Meanwhile, farmers will also have noted the increase in carbon tax, by €7.50 per tonne, which had been set out in the 2020 Finance Act.
This comes as the Government re-states its commitment to reducing greenhouse gas emissions.
Farmers staged a series of regional protests last Friday to air their concerns about Government policy on agriculture.
They are particularly worried about the implications for the sector of the Government's target to cut greenhouse gas emissions by 51% by 2030, and also about the next round of EU Common Agricultural Policy (CAP) negotiations which they say could result in farmers losing 25% of their income.
The protests held in Cavan, Roscommon, Portlaoise and Cork attracted hundreds of people to each, having been organised by the Irish Farmers' Association, who say they want to negotiate a plan with ministers to deal with farming and rural Ireland for the next 5-10 years.
In today's Budget speeches, Ministers Donohoe and McGrath earmarked €202m from the carbon tax to support householders to improve energy efficiency in their homes.
Minister McGrath said that "every single euro" raised by the increase in carbon tax will be used in a progressive way to improve energy performance.
Minister Donohoe said carbon taxation has been shown by studies to be "the single most effective climate policy" that can be pursued by Government, although it is not the only one.
"The world is burning, and the only chance we have to control those fires is through coherent and effective policies. This is why carbon taxation is so important," he said.
IFA accuses Govt of reneging on funding commitment
The Irish Farmers' Association has accused the Government of reneging on a commitment to allocate funding from the carbon tax to agriculture.
According to IFA president Tim Cullinan, some of the carbon tax receipts were earmarked in the Programme for Government in 2020 for environmental and climate measures in farming.
"This has not happened and it will further rock farmer confidence in the Programme for Government commitment on the allocation of the carbon tax, which is also costing farmers a lot of money," he said.
Mr Cullinan welcomed the extension of tax reliefs for farmers but said the Budget, overall, is "underwhelming" for agriculture.
Chair of the IFA's farm business committee, Rose Mary McDonagh, said the extension of stamp duty reliefs for young farmers and stock relief measures for farmers who increase the trading stock on their farms is "important" and will encourage the transfer of farms from one generation to the next.