Budget 2021 includes a variety of changes to the earnings and social welfare payments of people across the country.
RTÉ and KPMG have been looking at how the measures might impact you.
Here are six scenarios for six different households:
---
A single parent with two children and income of €23,500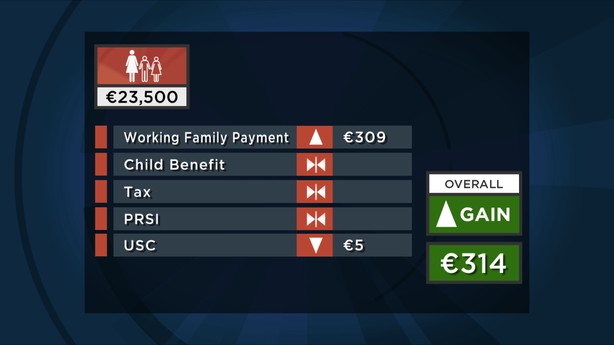 This family will benefit from an increase in the Working Family Payment threshold where families with up to three children will see an additional payment of €309.
This family will also benefit in a slight reduction in USC liability due to the widening of the 2% band, which has been introduced because of the small change to minimum wage.
There has been no change to child benefit.
Overall, this family will see an increase of just over €4 per week for a total of €314.
---
A retired single person in receipt of the State pension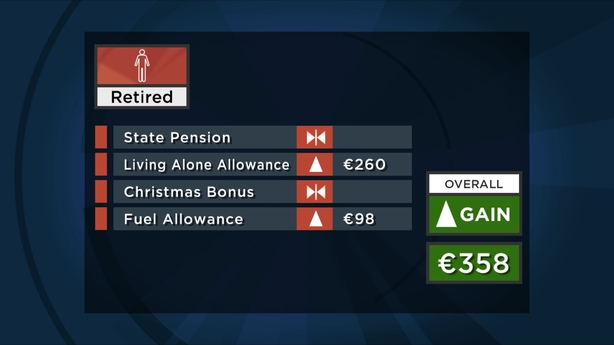 While an increase in the State pension has previously been considered one of the old reliables, this was not the case for Budget 2021.
This person will benefit from two increases on foot of today's announcements: an increase of €5 per week for the living alone allowance and the €3.50 per week fuel allowance increase for 28 weeks.
The fuel allowance was increased due to changes in the carbon tax.
There is no change to the Christmas bonus in this case.
Overall, the changes amount to an increase of €358 without taking account of additional heating costs.
---
A single person earning minimum wage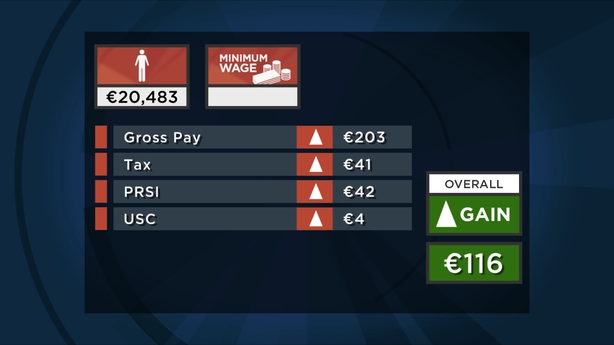 Taking a 39-hour working week, this person is set to earn €203 more next year due to the previously announced 10 cent per hour increase to the minimum wage.
Interestingly in this particular case, the PRSI liability has become greater than the tax liability because this worker is in a bracket that is transitioning from paying no PRSI to paying full PRSI on all their income.
Overall, this person can expect to take home €116 more in 2021.
The amount of hours a minimum-wage worker works will greatly affect these numbers.
---
A self-employed single person earning €50,000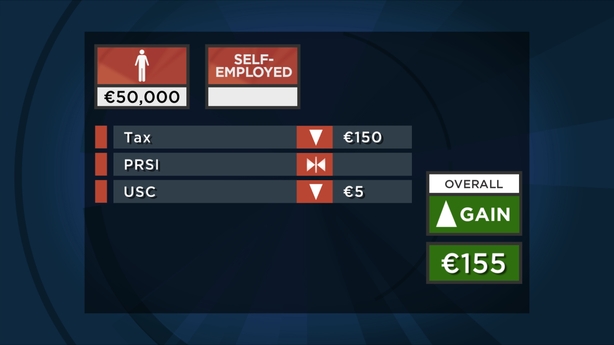 Budget 2021 included an increase of €150 to the self-employed credit to align with the PAYE employee tax credit.
This will come into effect in the current tax year.
This person can expect no other changes on the tax front, resulting in an overall reduction of €150 in their tax liability.
They will also benefit from a slight change in USC, for an overall gain of €155.
---
A married couple, both on job seeker's allowance, with two children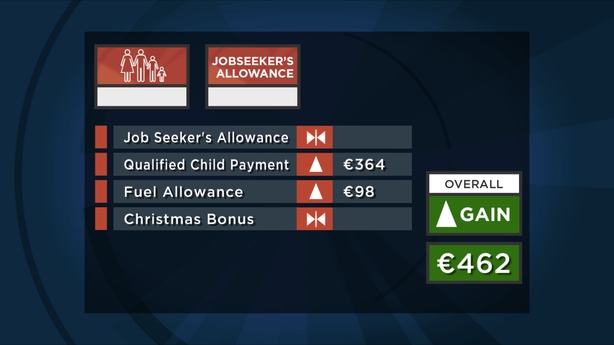 There has been no change to the job seeker's allowance in Budget 2021 but this family qualifies for two additional benefits.
This couple has one child over the age of 12 and one child under the age of 12. This means they will receive an increase of €7 per week in their qualified child payments. €5 for the child over the age of 12 and €2 for the child under the age of 12.
This family also qualifies for the €3.50 increase to the fuel allowance.
With no change to circumstances of the Christmas Bonus, this family will gain an additional €462.
---
A married couple with two children and a joint income of €75,000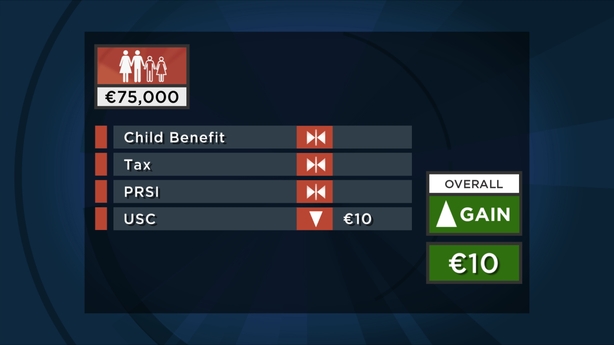 They will both benefit from a €5 decrease in USC changes but there is very little other change for this couple.
If either of them were to work from home due to the pandemic, there are deductions and reliefs available for utility bills including broadband against their tax liability.