Child benefit is to be increased by €5 per month per child from next year to €140.
Minister for Public Expenditure and Reform Brendan Howlin said the reduction in the unemployment level allowed him to make this change.
Mr Howlin also announced that children would be eligible for free childcare for two-and-a-half years, between the ages of three and five-and-a-half.
This extension to the Early Childhood Care and Education Scheme would bring children up to primary school age, he said.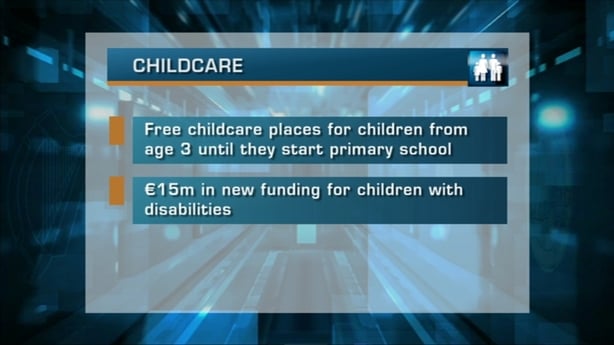 Funding of €15m would also be introduced which would facilitate the participation of children with disabilities in the scheme, he said.
Meanwhile, the Government is to legislate for statutory paternity leave of two weeks, which would take effect from September 2016.
This evening, Minister for Children James Reilly announced that the Child and Family Agency, Tusla, is to get an extra €38m next year.
However, a spokesperson for Barnardos warned it would not be enough to allow the agency to fulfill its statutory obligations.
The charity warned that continued underfunding puts children further at risk.