The Minister for Finance has announced a series of cuts to the Universal Social Charge.
Delivering Budget 2016 in the Dáil today, Michael Noonan said the entry threshold to the USC would be increased from €12,012 to €13,000 in January.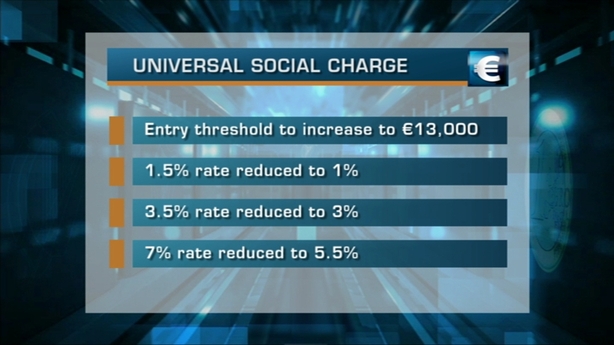 He said this move would remove approximately 42,500 workers from the scope of the charge entirely.
The 1.5% rate will move to 1% which would apply to the first €12,012 of income, for those who earn in excess of €13,000; while the 3.5% rate will be reduced to 3% on earnings of up to €18,668.
He also announced a 1.5% cut on the 7% rate to 5.5% on income between €18,668 up to €70,044.
Mr Noonan said that would result in the marginal rate of tax being reduced to 49.5% for all earners under €70,044. This is the first time this has happened since the supplementary budget in April 2009.
The top 1% of income earners will pay 22% of all income tax and USC collected, he said, while the bottom 75% of income earners will pay under a fifth of the total.
He said it is estimated that over 700,000 income earners will not be liable to pay USC at all from next year.
Labour Equality has today welcomed the new budgetary measures which will benefit low-paid workers and families.
Chair of Labour Equality Eoin Barry said: ''Budget 2016 is a positive step for income equality in Ireland and Labour Equality's pre-budget submission focused on this area.
"Improvements in workers' rights is one of the hallmarks of Labour in Government and the increase in the minimum wage and reductions in USC will benefit low paid workers," he added.