Minister for Finance Michael Noonan has said the "building and development sector" is still dysfunctional and experiencing market failure.
Speaking at a press briefing in Government Buildings following the Budget, Mr Noonan said up to 14,000 housing units would be completed by the end of this year, falling some way short of the annual requirement for 25,000 new homes.
He described the Fingal area of north Co Dublin as a "hotspot for activity", but said developers there were generally only building an average of 15 houses per development and that he would prefer to see them building up to 200 units.
Minister for Public Expenditure Brendan Howlin announced that €10m would be made available from the proceeds of the sale of Bord Gáis for an affordable housing pilot scheme.
Minister Howlin said it would be part of an ongoing annual commitment to secure a long term increase in the supply of housing for affordable rental.
Announcing the Budget in the Dáil this afternoon, he said an extra €69m is being allocated for social housing, bringing the annual total to €414m. 
He said the funding will enable local authorities secure accommodation for an additional 14,000 households.
Mr Howlin also said he was increasing the current allocation for emergency accommodation of homeless people by an additional €17m. 
Earlier, Mr Noonan announced that the National Asset Management Agency is to fund the construction of 20,000 new homes over the next four years.
2,000 of the units will be given over to social housing.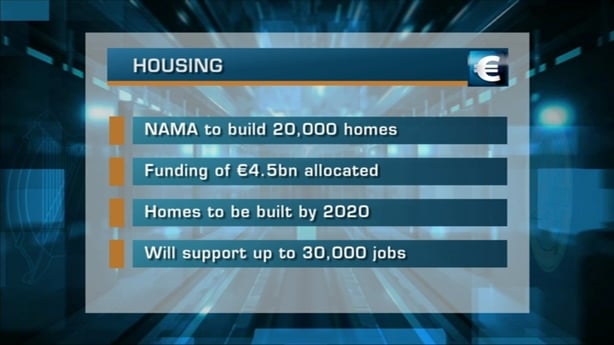 The cost of the scheme will be €4.5bn and the chair of the agency, Frank Daly, has said it will be paid from NAMA's own cash reserves.
90% of the new homes will be built in the greater Dublin area around Dublin, Wicklow, Kildare and Meath.
75% will be, what is described as, "starter homes" while the rest will be apartments.
Mr Noonan said the agency will be working with others as well as existing debtors who are developers to deliver the plan.
He also defended the fact that 10% will be given over to social housing, saying that NAMA has made a huge contribution already in the area and said at the end of the day it is not NAMA's total responsibility to deal with social housing.
Asked about how the new homes will be priced, he said the agency is precluded from selling at a loss and that the agency will make a "small gain". But he said the agency is not in the situation where it has to make massive gains.
Mr Noonan said, typically, starter homes NAMA is currently funding cost around the €300,000 mark.
Reacting to the Budget announcement, housing charity Focus Ireland said the Government has failed to deliver a housing package to stem the deepening homeless crisis.
The charity warned that the number of families who are homeless has doubled each year since 2012 and will double again by next year.
Meanwhile, Threshold, the national housing charity, has strongly criticised this year's Budget for failing to introduce rent certainty measures to help address the current homelessness crisis. 
Fianna Fáil's Finance Spokesperson Michael McGrath also criticised the Government's housing budget announcement. 
He said the minister's comments in relation to housing were "pathetic" with no rent certainty, no tax relief for landlords.
He also claimed that no agreement could be reached on a package of measures for people trying to put a roof over their heads.
Independent TD Mick Wallace criticised the Government's announcement that NAMA is to provide 20,000 residential units before 2020.
He questioned having NAMA as a developer, pointing out that it was set up as a bad bank to hold assets until there was a recovery.