The Government has announced a range of tax cuts and spending increases worth €1.5bn in Budget 2016.
Every worker or income tax earner will benefit from a change to the Universal Social Charge, according to Minister for Finance Michael Noonan.
Announcing the Budget, Mr Noonan said he would reduce the three lowest rates of USC from 1.5% to 1% - 3.5% to 3% - and 7% to 5.5%.
He also said the Government is increasing the entry threshold to USC from just over €12,000 to €13,000.
Mr Noonan said the measures would cut the marginal rate of tax to 49.5% for all earners under €70,000 - the rate will be below 50% for middle income earners for the first time since April 2009.
The minister said that the top priority of Budget 2016 is to keep that recovery going, while providing relief and better services for the Irish people.
He unveiled his €810m tax package; there was just one tax increase - a rise in the price of a packet of cigarettes by 50c with similar increases on other tobacco products.
Key Points | Michael Noonan's speech | Brendan Howlin's speech
The minister also introduced a graduated PRSI credit for workers, and for employers he increased the entry point to the top PRSI rate.
Other measures, which were well flagged, include an increase in the inheritance tax threshold to €280,000 and freezing local property tax to 2019 .He also extended the bank levy by five years to 2021 subject to a review.
Measures for businesses and agriculture were announced with a tax credit of €550 for the self employed.
Mr Noonan also reduced the number of rates for commercial motor tax which will benefit 28,500 fleet vehicles.
For retailers, he reduced the fees for accepting card payments and for consumers he removed the €5 stamp duty on debit and ATM cards. It is being replaced with a 12c charge per ATM transaction and eliminated for debit card transactions. No consumer, he said, would lose out as it would be capped.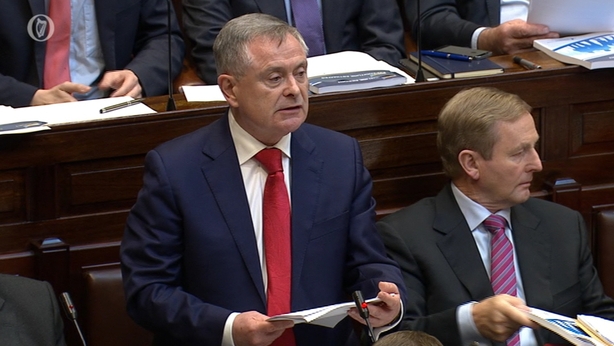 On the spending side, Minister for Public Expenditure and Reform Brendan Howlin said the days of spending cuts were behind them.
He announced a 50c increase in the minimum wage and an increase of €3 per week in the pension.
The Christmas bonus is being restored to 75% .The Fuel allowance is going to rise by €2.50 a week.
The Respite Care Grant will be restored in full and Child Benefit will be increase by €5 a month.
There was also an increase in the earnings threshold for family income supplement by €5 a week for families with one child and by €10 for those with two children or more.
The childcare package included two weeks' paid paternity leave, free pre-school from three years of age with €15 million to facilitate children with disabilities.
He also announced 8,000 places through the community childcare subvention programme and €3 million to develop after school services in schools.
In health, free GP care is being extended to all those under 12 subject to negotiations with doctors.
600 additional gardaí and 2,260 new teaching posts were also announced. The teacher-pupil ratio in primary and secondary schools will be reduced. The majority of the new recruits relate to the rising population and retirements; 600 recruits will be resource teachers.
Additional money for housing and homeless was also announced and NAMA is being tasked with delivering 20,000 homes by 2020.
There are no rent certainty measures in the Budget due to a disagreement between the departments of Finance and Environment.