Opposition parties have set out alternative budget plans in recent weeks, with pledges to abolish water charges a common theme.
In its budget proposals, Fianna Fáil said it would implement a €1.4bn adjustment split 60/40 between increased spending and reduced taxation.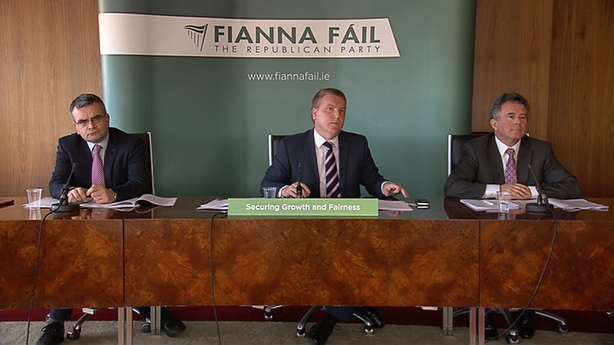 The party proposed the easing of the USC burden on lower- and middle-income earners in changes that would be worth €293 for single earners and €586 for a couple.
It wants reductions in Capital Gains and DIRT taxes, a levy on sugar-sweetened drinks and a 75c hike in excise duty on tobacco.
In measures to tackle the housing crisis, the party proposed increasing rent supplement ceilings and a €1bn spend on social housing to be funded by the Strategic Investment Fund. It also said NAMA should pay a special €200m dividend to be spent on social housing.
There would be a new tax credit to offset childcare costs and cuts in the pupil-teacher ratios in primary schools.
Fianna Fáil says it would increase child benefit and old age pension rates by €5 a week.
The party also proposes an end to water charges.
Fianna Fáil Finance Spokesman Michael McGrath said the Government would not be able to fund the range of changes already suggested by pre-budget leaks and claimed Fianna Fáil was the only party to have learned the lessons of the crash.
Sinn Féin said it would introduce a new rate of tax for those earning over €100,000, reduce the pay of public servants over this threshold, and introduce a new rate of Employers' PRSI on high earners.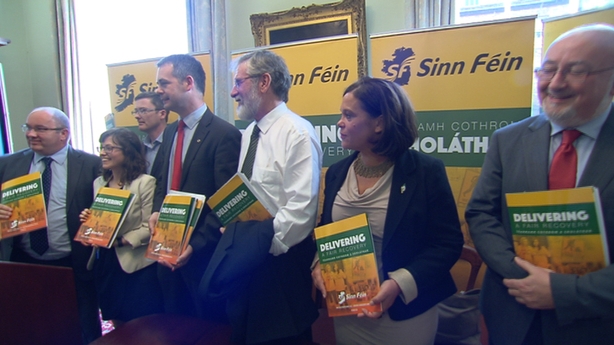 Party President Gerry Adams said the measures would put between €600 and €1,000 back in the pockets of the average family by abolishing the Local Property Tax and water charges, and providing extra medical cards.
The party's net expenditure on current spending would be just under €1.4bn, with €1.1bn capital expenditure, it said.
Sinn Féin said it would allocate €289m to undo recent cuts, including restoring the Respite Care Grant and the Bereavement Grant.
Family Income Support and Fuel Allowance would be increased, while a telephone allowance for those living alone would be re-introduced.
The Anti-Austerity Alliance proposed a 10% increase in the effective income tax rate on the top 10% of income earners to raise €2.7bn.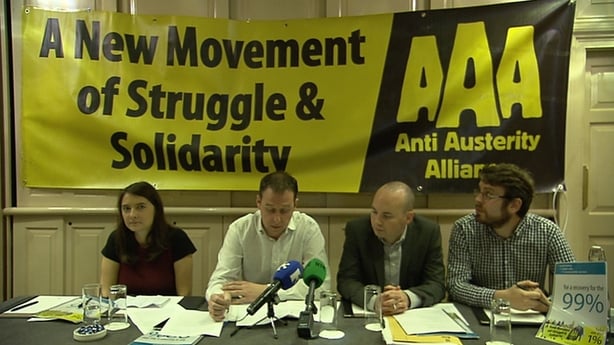 In its budget document, the party also called for an emergency 2% 'millionaire's tax'.
It wants to abolish the USC for those earning less than €35,000 and to halve the charge for those earning between €35,000 and €70,000.
On housing, the party wants to build 100,000 new council homes and to acquire 46,000 vacant properties across the State.
The AAA is seeking to "re-purpose" NAMA and give it a role as a social and affordable housing agency.
These policies would clear the housing waiting list by 2018, the party says.
People Before Profit proposed a €1.5bn package for social protection and abolishing the property tax and water charges.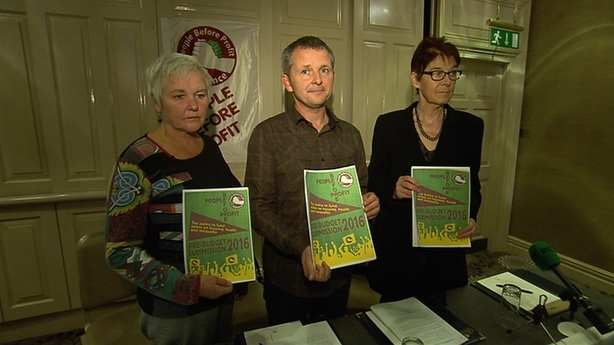 In its budget submission it also proposed getting rid of USC for income less than €35,000 and halving it for income less than €70,000.
The party is proposing reversing all social welfare cuts and spending €1bn more on health. In relation to Irish Water, it believes abolishing the charges will cost €274m.
It proposes keeping the water conservation grant but householders would have to prove they are using it to conserve water.
The party is also in favour of compensating those who have paid for their water charges but this is not included in the submission.
In terms of raising revenue, the party proposes a wealth tax of 2% on assets excluding the family home or farm worth €1m, introducing a financial transaction tax and increasing the tax on those earning over €100,000.
The Social Democrats proposed a range of measures, including putting €1.5bn into key services.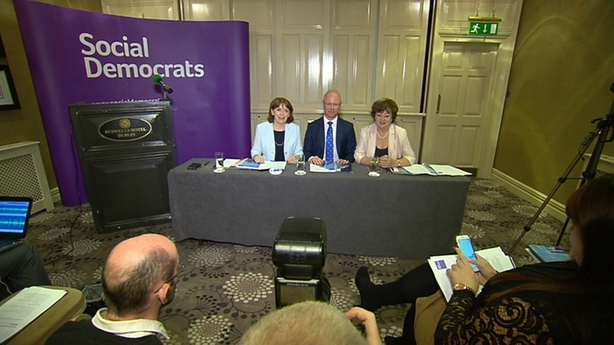 The party proposed hiring an additional 3,000 teachers and creating 900 new primary care staff.
Childcare is a key part of the submission, with proposals for two weeks' paternity leave, an additional ten weeks' parental leave and a second free preschool year.
Among its proposals are the introduction of a junk-food tax on processed foods high in salt and saturated fats and reducing the Universal Social Charge by 0.5% for earnings up to €70,000.
Speaking at the launch of the party's pre-budget submission, Stephen Donnelly said the party hopes to abolish water charges, estimated at a cost of €13m - which is much less than the other parties have estimated.
The Social Democrats are also advocating an increase in the qualifying age for the one-parent payment from seven to 12 years. They propose funding for the telephone allowance and restoring the respite grant by €175.
To pay for the measures, the party proposes a junk-food tax and a levy on AIB to repay the State for the €1.1bn that was used to top up its pension fund.
It also proposes a 20c increase on a packet of cigarettes, along with a 10c increase on a pint of beer, cider and single measures of spirits.
Renua proposed a flat tax rate of 23% on earners as part of its pre-budget submission.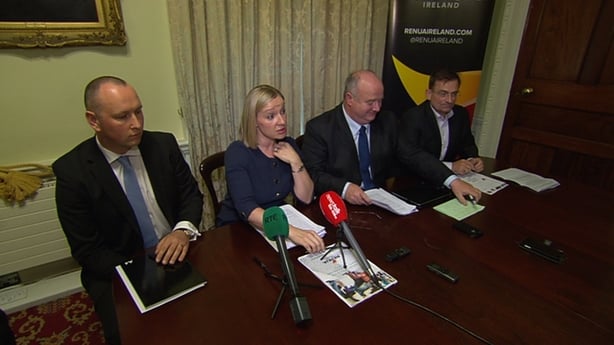 Party leader Lucinda Creighton said the plan could be introduced over a three-year period.
Renua also proposed a system of graduated payments, with the maximum payment of €2,500 provided to those on welfare and the minimum wage.
The payments would decrease as the tax payer's income rose.
Nobody earning over €70,000 would receive a graduated payment.
The majority of tax payers would benefit under the tax plans, but those on minimum wage would be marginally down. However, Renua said their income could rise if overtime is done.
Tax take would be down €3.5bn on current levels under the party's plan.
Renua maintains that a shrinking of the black market would increase spending and VAT would then erode the difference.
The party also wants to abolish the TV licence, and to replace motor tax with a levy on fuel.