There has been a broadly positive reaction from children's groups to the new affordable childcare scheme, with the National Women's Council describing it as a breakthrough for the provision of childcare in Ireland.
Minister for Public Expenditure and Reform Paschal Donohoe told the Dáil that the €35m Single Affordable Childcare Scheme would be introduced in September 2017.
It will provide parental means-tested subsidies towards the cost of childcare for children aged six months to 15 years and universal subsidies of up to €80 a month or €900 a year for all children aged between six months and three years.
Mr Donohoe said the subsidies would be paid for "children and young people attending a Tusla-registered childcare provider, including centre-based providers and child minders".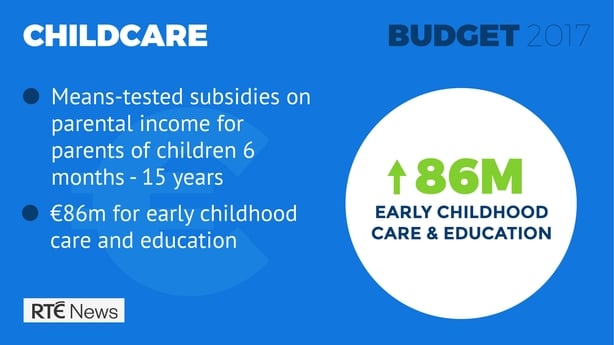 The measures come as part of an increase in Early Years funding from €345m this year to €465m next year and the minister described it as a "major step forward in the provision of childcare".
He added: "In addition to the childcare package, €86m extra has been provided in respect of the full year costs of the extended Early Childhood Care and Education Scheme, the free pre-school scheme, and the roll out of the Access and Inclusion Model, or AIM, to enable children with disabilities to participate in pre-school education."
Minister for Children and Youth Affairs Katherine Zappone said the universal subsidy of up to €960 per child per year would encourage more women to enter training or the labour market.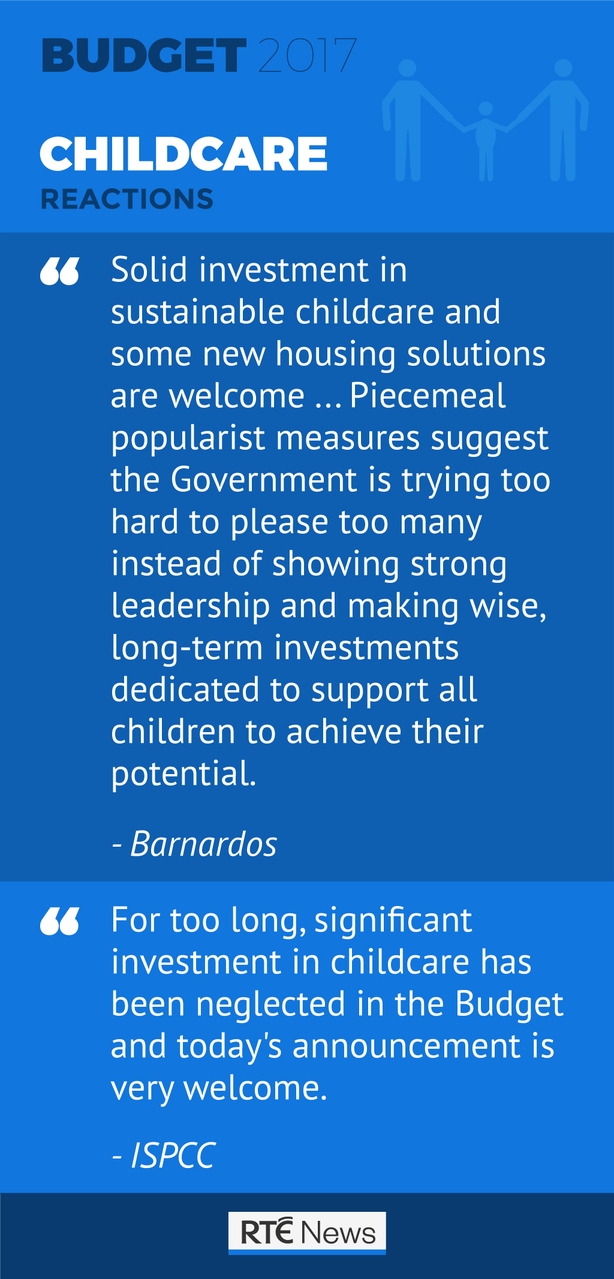 Orla O'Connor, Director of the National Women's Council of Ireland, said the proposals were a "breakthrough for the provision of childcare in this country".
"The childcare package is the first step to developing a publicly subsidised universal childcare model, similar to the models available in many other European countries.
"While we believe the new approach to childcare provision is right, we are calling on the Government to significantly increase funding for it."
The Irish Society for the Prevention of Cruelty to Children (ISPCC) also welcomed the proposals.
ISPCC Chief Executive Grainia Long said: "This is a positive proposal; the combination of universal and targeted approaches is progressive. For too long, significant investment in childcare has been neglected in the Budget and today's announcement is very welcome."
However, the group representing childcare providers has questioned the allocation of funding.
The Chief Executive Officer of Early Childhood Ireland, Theresa Heeney, said that while the additional funding was to be welcomed, the measure could put more pressure on childcare providers.
Fianna Fáil's spokesperson on Jobs, Enterprise and Employment expressed concern regarding the package.
Dara Calleary said his party fears that the scheme will be discriminatory for some couples who are jointly assessed.
He said the scheme allows no choice of flexibility but relies on Tusla-registered childcare operators and warned that it could double or triple demand for places.
Childcare package begins next Sept. Universal payment of €900 a year regardless of income for those in Tulsa registered childcare services pic.twitter.com/zbjrKrLQCg

— Samantha Libreri (@SamanthaLibreri) October 11, 2016
Labour Party spokesperson on Children and Youth Affairs Jan O'Sullivan said the package was "underfunded and fails to address the chronic issue of low pay in the sector".
"In the Budget for next year, the sum ... for investment in a new programme covering childcare and early years education is a paltry €32m. In contrast, last year's budget provided an extra €82m for the introduction of the second free pre-school year."
Labour's finance spokesperson Joan Burton said the biggest failure of Budget 2017 was the lack of an increase in child benefit. 
Green Party leader Eamon Ryan said: "We welcome the introduction of support for parents using full-time childcare institutions but it is very unfair that similar help does not go to parents looking after children in their home in a variety of different ways."
In a media briefing this evening, Minister Zappone said that up to 79,000 families are expected to benefit from the scheme next year with that figure expected to rise to 90,000 in 2018.
Just 150 childminders in the state are currently registered with Tulsa but the Department said it hopes this scheme will encourage more to register and benefit from the scheme.
An extra €1m has been allocated to TUSLA for next year to enable it to increase its monitoring of standards in the childcare sector, Ms Zappone added.