The Independents 4 Change Deputy Joan Collins described Budget 2017's help-to-buy scheme, aimed at first-time buyers, as a conduit for developers and bankers. 
Ms Collins said it would push up house prices, and raised concerns over tax breaks for private landlords.
"What planet are we on?," Ms Collins asked. "People can't even access the rents landlords are imposing on them." 
The scheme will provide first-time buyers with a rebate of income tax paid over the previous four tax years, up to 5% of the purchase price of a new home up to a value of €400,000.
Minister for Housing Simon Coveney rejected claims it will increase the price of houses.
Mr Coveney said recent figures showed that less than 25% of homes are being purchased by first-time buyers whereas in a normal market that figure should be closer to 50%.
Mr Coveney said the Government was intervening to increase that figure and to close the viability gap between what it costs to build a new house and what it costs to buy.
As part of the measure, pro-rata rates will apply to houses in excess of €400,000 and up to €600,000, however, there will be no tax rebate on house purchases in excess of €600,000.
The maximum tax rebate available to first-time buyers will be €20,000.
It is estimated to cost the Exchequer around €50m in its first year of operation.
The scheme will apply to the purchase of newly built primary residences by first-time buyers from 19 July this year until the end of 2019. 
Mr Coveney said he expected between 4,000-6,000 first time buyers would benefit from the scheme next year and also stressed that this was for people obtaining mortgages and not cash buyers.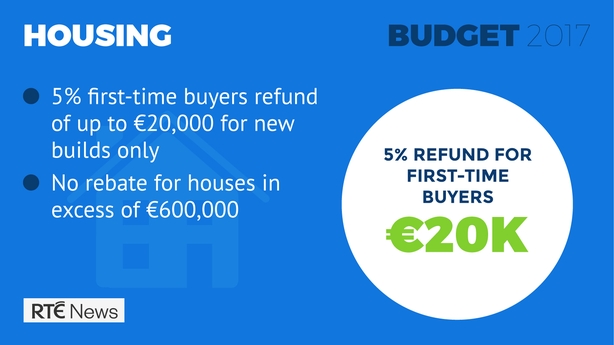 He said the threshold was up to €600,000 to because of house prices in the Dublin region. 
Housing ministers rejects claims first time buyer scheme will increase prices. Says it'll be like IOU from revenue to the bank for deposit pic.twitter.com/UxvRUxZbJt

— Samantha Libreri (@SamanthaLibreri) October 11, 2016
Applicants must take out a mortgage of at least 80% of the purchase price of the house.
Any rebate received under the scheme will be reckoned in full in the calculation of the deposit required to be eligible for a mortgage under the Central Bank's macro-prudential rules. 
Second-hand properties are not included in the help-to-buy measure. 
The Minister for Finance noted that in all markets, supply increases meet demand and the new scheme will increase the demand for newly built houses by assisting first-time buyers to put a deposit together. 
"I expect the building industry to meet this additional demand by increasing the supply of new affordable homes," Michael Noonan added.
Mr Noonan also said that the Home Renovation Incentive Scheme is to be extended by two years to the end of 2018.
Fianna Fáil's spokesperson on finance has criticised the help-to-buy scheme. Michael McGrath questioned if there had been an impact assessment of the scheme.
He asked if the Government had sought extra advice or assessed the property market prior to today's announcement.
Mr McGrath said Fianna Fáil was concerned that the scheme would put up the price of new homes.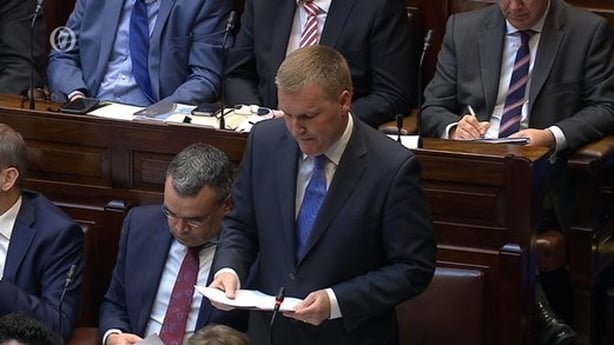 Catherine Murphy of the Social Democrats said that the housing initiative for first time buyers was regressive and would increase the cost of housing.
The Society of Chartered Surveyors Ireland has said the help-to-buy scheme will have very little impact on the housing crisis because supply is the problem, not demand. 
President of the SCSI Claire Solon said: "In our view, the Government should have been focusing on initiatives to make development viable, like reducing VAT on affordable housing, making public land available for affordable housing schemes and providing finance to help kick-start building on sites around the country, with all the employment and tax benefits that this would bring."
Sinn Féin's housing spokesperson Eoin Ó Broin criticised the new measures.
He said: "Michael Noonan's first-time buyers scheme, available on homes up to the value of €600,000 will simply drive prices even higher and lock greater numbers of people out of home ownership.
"It is also very telling that Government thinks that struggling first time buyers are considering purchasing homes between €400,000 and €600,000."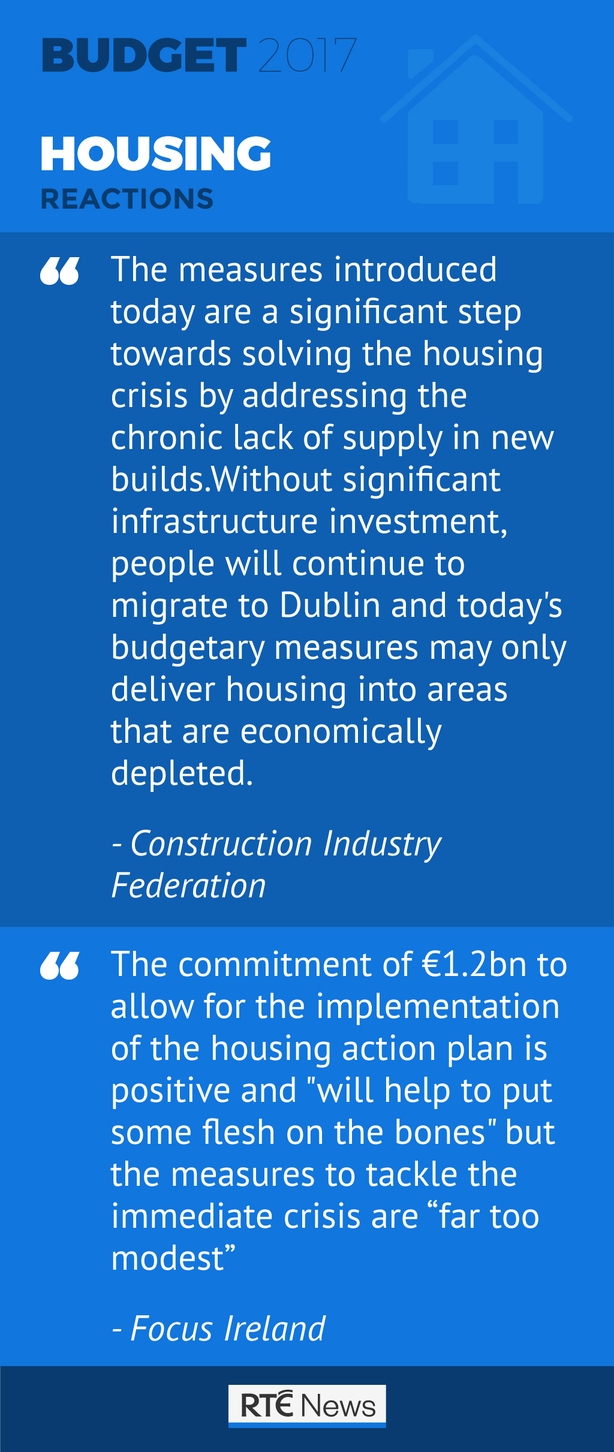 Savills Ireland said the scheme will make housing in Ireland less affordable. 
Its Director of Research Dr John McCartney said: "Alternative approaches, such as cutting VAT on new homes, would equally have encouraged development - but at a lower price point.
"However the Government bottled out of that option because of optics - it would simply have looked too much like a handout for developers." 
However, Irish-listed homebuilder Cairn Homes has welcomed the new scheme, saying it is a positive boost to the Irish housing market.
Cairn CEO Michael Stanley said: "We believe that housebuilders in Ireland will respond positively to today's announcement and will significantly increase the supply of new homes across the country in the knowledge that customers will have a stronger chance of securing the required financing."
Tom Parlon of the Construction Industry Federation said that the Budget is well thought out and clearly targeted.
He said it clearly targets the lack of 'starter' homes: "If we don't have the customers, you won't have the bank lending and you won't have the houses built. I believe this is going to kick-start the building of first-time buyer homes. I certainly welcome the initiative."
Mr Parlon also said the extension of the home renovation incentive scheme is extremely important.