The EU's chief Brexit negotiator has said that the finishing line is in sight for a Northern Ireland Protocol deal, but that does not mean a deal is done.
Maroš Šefčovič told a press conference in Brussels that the shared objective of the EU and UK is joint solutions for all communities.
Asked about a deadline for talks, Mr Šefčovič said the work was delicate, and they never work with artificial deadlines.
However, he said the sooner they are able to provide all communities in Northern Ireland with predictability, stability and legal certainty, the better for them.
Mr Šefčovič said it was not just about keeping peace in Northern Ireland, but about prosperity for the region.
He confirmed he will would hold a video conference with British Foreign Secretary James Cleverly and Northern Ireland Secretary Chris Heaton Harris today.
'Very narrow window of opportunity'
Earlier, the Minister of State for European Affairs said there is a very narrow window of opportunity to secure a deal on the protocol.
Peter Burke said Europe is keen to get a deal done quickly, in order to focus on bigger matters.
He said: "This is a very narrow window of opportunity. It's very important that we grasp it, that we grasp it for the people of Northern Ireland and as well for the EU 27.
"Because it's so important that we have a very solid, stable relationship with the United Kingdom post-Brexit."
Asked why he said the window was narrow, Minister Burke said the protocol issue had been ongoing for a "significant period of time".
He added: "We really need a situation whereby we can work on the future relationship. We don't want European Council meetings or the landscape of Europe to be dominated by Brexit.
"We really need to be getting on to dealing with pressing issues within the European Union, which are so important to the functioning of it.
"And working to ensure that it delivers for people right across Europe and that's key and that's why we had a de-escalation of rhetoric because we had so much placed in the confidential process between Maroš Šefčovič and the UK Government.
"And to be fair, that has worked quite well. So we're hopeful that that will deliver for everyone in the coming days and weeks ahead."
Sunak faces MP pressure over deal
Meanwhile, British Prime Minister Rishi Sunak faces a potential battle with members of his own party as he seeks to satisfy the demands of both Conservative MPs and the DUP over any agreement.
Jacob Rees-Mogg accused Mr Sunak of imitating Theresa May's doomed Brexit strategy as Tory Eurosceptics in the European Research Group (ERG) were urged to allow the "time and space" needed to fix the protocol.
The prominent Brexiteer questioned why "so much political capital" was being spent on brokering a new deal without ensuring the DUP and his wing of the Conservative Party were on board.
As pressure builds on the prime minister, who is also facing calls to allow MPs a vote on any final deal, the Times newspaper reported that some ministers could be prepared to resign if Mr Sunak's solution to the protocol risks the place of Northern Ireland within the UK.
A No10 source said that central to Mr Sunak's focus was safeguarding Northern Ireland's place in the UK.
There are hopes that a fresh settlement on post-Brexit arrangements in Northern Ireland will be able to secure the return of power-sharing at the Stormont Assembly, after the DUP walked out in protest at the protocol last February.
Focus has also turned to the fate of the Northern Ireland Protocol Bill, which is currently stalled in the House of Lords and would allow ministers to override parts of the protocol, after Boris Johnson called on ministers to press on with legislation enabling them to override parts of the protocol.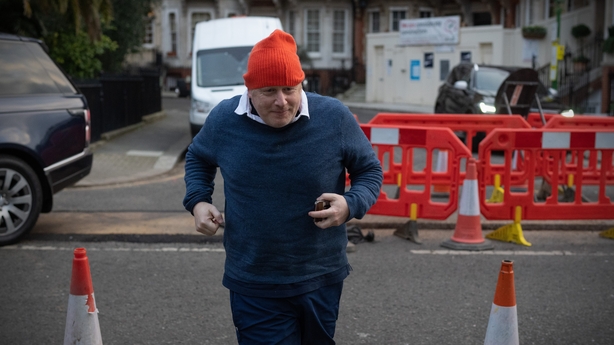 The intervention by the former prime minister, who negotiated the protocol but whose government also tabled the bill at Westminster after unionist outcry at the deal, was a sign that some backbenchers may try to scupper any agreement brokered by Mr Sunak if it fails to address longstanding gripes about the settlement in Northern Ireland.
Home Secretary Suella Braverman yesterday described the bill as "one of the biggest tools that we have in solving the problem on the Irish Sea".
Ms Braverman, a longstanding Eurosceptic, argued that Mr Sunak is right to be "committed to finding a pragmatic solution to resolve these issues".
Labour leader Keir Starmer has urged Mr Sunak to allow the Commons to have its say on any final deal, offering Labour support to secure the approval of any new agreement in the event of any Tory rebellion.
Taoiseach Leo Varadkar said a "huge amount of progress" has been made towards reaching agreement on the protocol, but he could not say if agreement would be reached this week.
"I know that a huge amount of progress has been made in terms of coming to an agreement on the protocol," Mr Varadkar told a news conference.
"I know that Prime Minister Sunak wants to consult with his party, wants to consult with the parties in Northern Ireland and I think it's really important that we allow some time and space for that to happen and avoid any commentary that might make it more difficult for this to be agreed."
'Lines have been crossed'
DUP leader Jeffrey Donaldson said that he had been encouraged by the progress that had been made in talks with the UK Government on the Northern Ireland Protocol, saying "lines have been crossed" by the EU side which it had previously refused to countenance.
However, he said Brussels needed to accept that goods traded within Northern Ireland were subject to UK laws and standards, and not those of the EU, if there was to be an agreement that would allow his party to return to power-sharing at Stormont.
"It is possible given the level of progress that has been made and the principles that have already, I'm told, been agreed the outstanding issues could be resolved within the next few days," he told reporters at Westminster.
"In judging the progress I believe has been made so far, I think lines have been crossed. Therefore, that suggests to me there is the potential to resolve this issue."
He added: "We can't have a situation where businesses in Northern Ireland are able to bring goods in from Great Britain and sell them as UK standard products, and make the same product themselves in Northern Ireland but they are required to make them to EU standards.
"That is not acceptable."
Additional reporting PA