British health minister Steve Barclay has said that he does not recognise a report that the government wants to move towards a Swiss-style relationship with the European Union.
Under new prime minister Rishi Sunak, the British government will look to pursue frictionless trade with the EU in a deal modelled on Switzerland's relationship with the bloc although this would not involve a return to freedom of movement, the Sunday Times said.
The paper says that the move could take place over the next decade as the government eyes up a closer relationship with the EU that avoids the current barriers to trade.
Any such shift would likely inflame backbench Tory Brexiteers.
However, Mr Barclay said that he does not recognise the report.
"I don't recognise this story at all," Mr Barclay told Sky News. "I don't support that. I want to maximise the opportunities that Brexit offers."
Switzerland has negotiated access to the European single market, but in return has to accept conditions including allowing freedom movement of workers from EU countries and payments into the bloc's budget.
Simon Clarke, a former minister, was among those to criticise any suggestion that Britain could pursue a Swiss-style deal.
"I very much hope and believe this isn't something under consideration," he said on Twitter. "We settled the question of leaving the European Union, definitively, in 2019."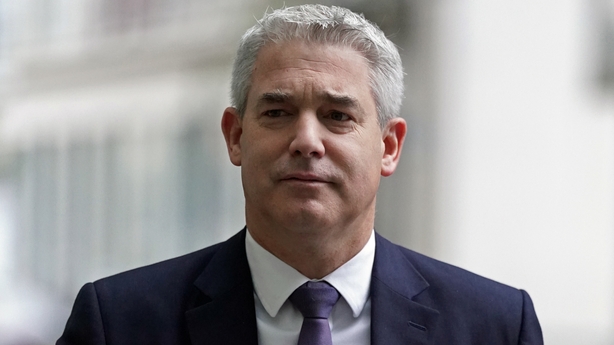 Mr Barclay told the Sophy Ridge on Sunday programme on Sky News: "We've got a Prime Minister who himself supported Brexit. I myself did and was Brexit secretary, and worked very hard to maximise our control of our laws, our borders and our money."
Asked if he could support a Swiss-style relationship, he said: "Well, I didn't support that. I want to maximise the opportunities that Brexit offers."
He also admitted that since Brexit there have been "difficulties" with "greater friction" over trade.
Asked on Sky News whether Brexit had had an adverse impact on UK trade, he said: "What I'm saying is you've got to look at the issues in terms of Brexit in the round.
"There are areas where there have been difficulties in terms of greater friction and we're looking to work constructively with EU partners on that.
"But, equally, there are very significant opportunities as a result of Brexit.
"I don't think we would have done the vaccine rollout in the way that we did had we remained a member of the EU and the significant regulatory opportunities we have, and the autumn statement signalled our determination to take those."
Meanwhile, the Labour party has said that it does not want the UK to rejoin the European Union's single market.
The party's shadow work and pensions secretary Jonathan Ashworth said that Labour would not adopt a Swiss-style relationship with the EU.
Speaking on the same programme, Mr Ashworth said: "We're not proposing returning to the single market or the customs union, or anything like that.
"But we do want to negotiate a bespoke deal for the United Kingdom, so that our businesses can export, so that we can get those agreements on agriculture, so we can work together on security issues.
"But we're not proposing that we just simply adopt the Swiss proposal, which the Government now are apparently looking at.
"Of course, we need to fix this deal. Of course, we need to make Brexit work, because this oven-ready deal that we were promised, this great deal, has not worked out in the way in which Rishi Sunak and Boris Johnson told the British people that it would do."