The British government has won its House of Commons vote for the second reading of the Northern Ireland Protocol Bill by 295 to 221 votes.
Boris Johnson's bid to unilaterally scrap parts of his post-Brexit deal cleared its first parliamentary hurdle after MPs voted by a majority of 74 to give the legislation a second reading.
This allows it to progress to the next stage of line-by-line scrutiny in Britain's parliament.
The division list showed no Conservative MPs voted against the Northern Ireland Protocol Bill at second reading with 283 Tory MPs supporting it - along with eight DUP MPs.
But the Bill will face a bigger challenge when it eventually moves to Westminster's House of Lords, where the government does not have a majority and many peers have expressed concern about it.
Earlier, the UK Foreign Secretary sought to downplay Tory concerns that the Bill "brazenly breaks a solemn international treaty", "trashes" the UK's international reputation and risks a trade war with the EU.
Liz Truss said the UK continues to raise issues of concern with the EU. She told MPs: "We simply cannot allow this situation to drift.
"Northern Ireland has been without a devolved government since February due specifically to the protocol, at a time of major global economic challenges.
"Therefore, it is the duty of this government to act now to enable a plan for restored local government to begin. It's both legal and necessary."
Tonight @HouseofCommons has backed the NI Protocol Bill.

It provides practical solutions to problems caused by the Protocol and protects the Belfast (Good Friday) Agreement.

While a negotiated outcome remains our preference - the EU must accept changes to the Protocol itself.

— Liz Truss (@trussliz) June 27, 2022
Conservative former minister Andrew Mitchell said he has an "immense amount of sympathy" with what Ms Truss is saying, adding: "It does seem to me that the EU is not being particularly constructive in trying to get the solution we all want to see achieved.
"But can I say to her that many of us are extremely concerned that the Bill brazenly breaks a solemn international treaty, it trashes our international reputation, it threatens a trade war at a time when our economy is flat and it puts us at odds with our most important ally.
"Can she say anything to reassure me in my anxieties on these points?"
Ms Truss replied: "Our preference is for a negotiated solution and we have sought a negotiated solution for 18 months, but as recently as last weekend the EU have refused to change the text of the protocol.
"That is why there's strong legal justification, as set out in our legal statement, for us taking this action because our priority as the United Kingdom government has to be political stability within our own country.
"Whilst we put this Bill through Parliament, we will continue to seek a negotiated solution with the EU - and in fact there are provisions of the Bill to deliver it."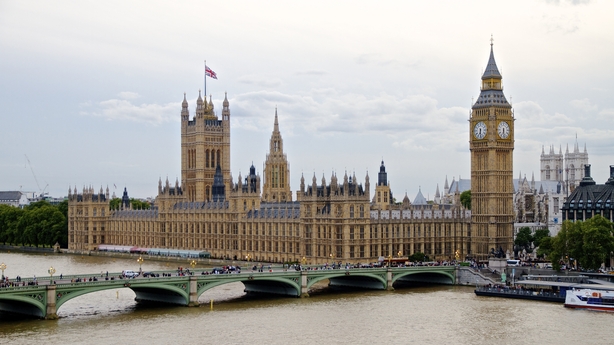 Theresa May warned moves to scrap unilaterally parts of Northern Ireland's Brexit deal are "not legal" and will "diminish" the UK's global standing.
The Conservative former British prime minister delivered a withering assessment of the Northern Ireland Protocol Bill as she made clear she would not support it.
Mrs May questioned the argument that a legal principle of necessity allows for the UK Government's plans, insisting there is "nothing urgent" about the legislation.
Conservative chair of the Commons' Northern Ireland Affairs Committee Simon Hoare said: "It is not a well-thought out Bill, it is not a good Bill, it is not a constitutional Bill.
He also said it risks "shredding" the UK's reputation as a guardian of international law and warned: "How in the name of heaven can we expect to speak to others with authority, when we ourselves shun at a moment's notice our legal obligations?"
Labour shadow foreign secretary David Lammy told MPs the government is "taking a wrecking ball to its own agreement".
Conservative MP Roger Gale said the Bill "will be a gross breach, if it is enacted and implemented, of international law".
However, Liz Truss said the Protocol Bill was the "only solution" to resolve trade difficulties across the Irish Sea without the EU being willing to reopen negotiations.
She defended legal advice underpinning the Bill, telling MPs: "The doctrine of necessity has been used by other governments in the past where there is a severe issue and the other party is unwilling to renegotiate that treaty.
"That is the position that we are in with the Northern Ireland Protocol."
The British Foreign Secretary also said the Bill would prevent "unnecessary divergence" between two parts of the UK internal market and would ensure the government can set "UK-wide policies on subsidy control and VAT".
---
Read more: Latest Brexit stories
---
She told MPs that "when the protocol was negotiated it was very clear that it wasn't set in stone".
Conservative Aaron Bell said "they (EU) need to engage with us and negotiate in order that peace is not threatened".
Ms Truss replied: "It is very clear from the legal advice that one of the issues is that the EU won't change the text of the protocol, even though when the protocol was negotiated it was very clear that it wasn't set in stone, that it should be subject to change because of the very unique situation in Northern Ireland."
She added: "I know there are those across the House who want to give negotiation more time. The problem we face is we've already been negotiating for 18 months, we have a negotiating partner who is refusing to change the text of protocol, meanwhile we have a worsening situation in Northern Ireland.
"So, it is firmly the view of this government that we need to act and we are pursuing this legislation as all other options have been exhausted."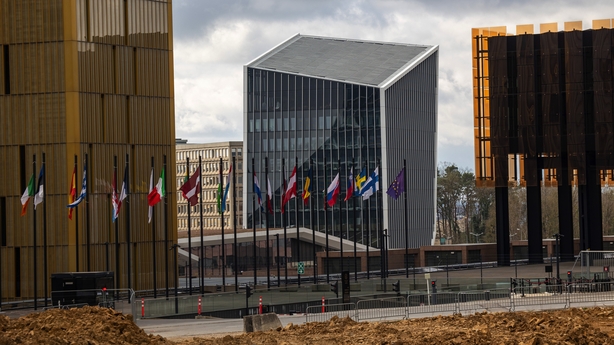 The European Court has already become one of "the most controversial elements of the protocol," Liz Truss told the Commons.
The Foreign Secretary told the Commons: "The Bill ... will remove the role of the European Court where it is not appropriate, including its role as the final arbiter of disputes.
"This is in line with normal international dispute resolution provisions, including in the Trading Co-operation Agreement.
"The Bill will also enable courts to seek an opinion from the European Court on legitimate questions of the interpretation of EU law, ensuring that it can still be applied for the purposes of north-south trade.
"All unionist parties have cited the European Court as a main cause of a major democratic deficit. Together with VAT and state aid rules, it causes unionists to feel less connected and less part of the UK."
A Number 10 spokesperson said the UK government wants to pass the Northern Ireland Protocol Bill "as quickly as possible".
British Prime Minister Boris Johnson signalled that his plan to effectively tear up parts of the Northern Ireland Protocol could be law by the end of 2022.
Asked at the G7 summit - taking place in Germany today - if the measures could be in place this year, he said: "Yes, I think we could do it very fast, Parliament willing."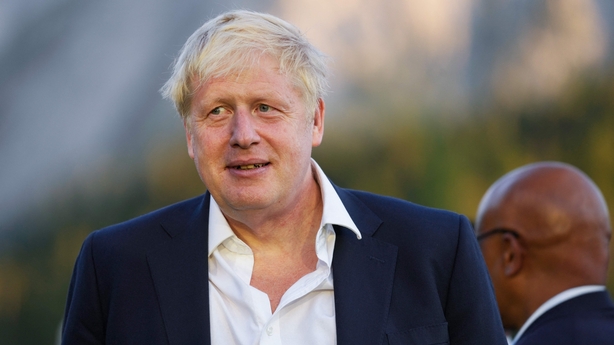 He added that "the interesting thing is how little this conversation is being had, certainly here" - indicating he is not expecting a major diplomatic row over his government's plans.
But the UK move has sparked a fierce backlash from the European Union, with fresh legal action launched against Britain last week.
European Commission Vice President Maroš Šefčovič has indicated that further measures could follow if the UK presses ahead with the Bill.
But today Liz Truss insisted "there is no need for the EU to react negatively ... they will be no worse-off as a result of this legislation.
"These issues are very small in the context of the single market, but they are critically important for Northern Ireland."
Closing her remarks, she said the UK and EU are "natural allies", adding: "Once this legislation is enacted we can draw a line under this issue and unleash the full potential of our relationship with the EU."
Ms Truss stated: "As a patriot, I would not want to do anything that would diminish this country in the eyes of the world."
Conservative former Northern Ireland secretary Julian Smith said plans to rip up the Northern Ireland Protocol are a "displacement activity" from negotiating a better deal.
He told the Commons that businesses were engaging "in good faith" with the protocol and looking at ways to improve the deal.
Taoiseach says UK decision is a 'major serious development'
Taoiseach Micheál Martin rejected Mr Johnson's assertion that he does not see a major diplomatic row erupting over the Northern Ireland Protocol.
He said: "That, in my view, doesn't stack up in the sense that any unilateral decision to breach international law is a major serious development.
"One cannot trivialise the breaching of an international agreement between the UK and the EU.
"I have been in touch with the President of the European Commission and the President of the European Council, and they are concerned about this."
In a statement, Minister for Foreign Affairs Simon Coveney said he is "hugely disappointed that the British government is continuing to pursue its unlawful unilateral approach on the Protocol on Northern Ireland."
He said that "this is not the way to find sustainable solutions to the genuine concerns of people and business in Northern Ireland and only adds to uncertainty."
Mr Coveney urged the British government "to return to constructive dialogue with the EU in pursuit of jointly agreed, long-lasting solutions."
Donaldson warns MPs not to 'wreck' Good Friday Agreement
Speaking to reporters in Westminster ahead of the debate on the Bill, DUP leader Jeffrey Donaldson said that if the House of Lords blocks the protocol legislation, it will be "wrecking the Good Friday Agreement".
He also warned that Conservative MPs hostile to Boris Johnson should not use Northern Ireland as a "political football".
Mr Donaldson declined to put a timetable on the DUP returning to power-sharing arrangements at Stormont.
He said his party would "consider what steps we can take" once the Bill passed the House of Commons.
He added: "We certainly need to hear more pragmatism and more realism from the EU, but in the absence of that I think the Bill is the way forward."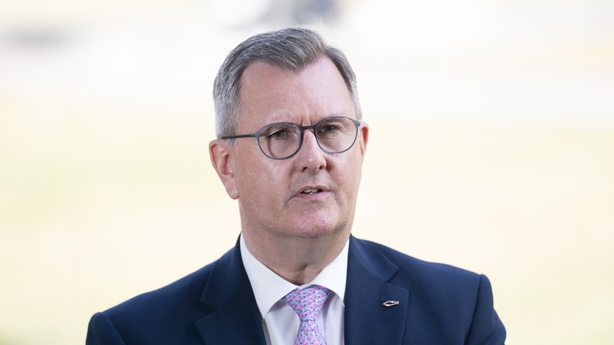 DUP Stormont minister Edwin Poots has said cutting MLA pay will have "no bearing whatsoever" on his party's deliberations on returning to Stormont power-sharing.
He was responding to a warning from Britiain's Northern Ireland Secretary Brandon Lewis that he will move "soon" to reduce the wages of Assembly members if the legislature remains in cold storage.
Asked if he felt discomfort in accepting his salary when the Assembly and Executive were not meeting due to the DUP boycott, Agriculture Minister Mr Poots told BBC Radio Ulster: "I'm working six days a week most weeks, so personally I have no issue about taking pay.
"But if Brandon Lewis wants to cut pay, bring it on - that's entirely up to him."
Sinn Féin MP John Finucane said Stormont Assembly members being paid for work they cannot do is "untenable".
He stated: "The British government has indulged and indeed rewarded one particular party here that holds everybody to ransom.
"MLAs that I listen to want to get in and do the job that they have been elected to do."
Asked if cutting pay would make any difference, he said: "I don't think that announcement yesterday changes a single thing because it doesn't really say very much."
Alliance MP Stephen Farry (North Down) said: "This is an extremely bad Bill, it's unwanted, unnecessary and, indeed, it's dangerous."
Leader of the SDLP, Colum Eastwood, said that Liz Truss "probably hasn't read the Good Friday Agreement" and described her comments in the House of Commons as "gibberish".
He told RTÉ's Drivetime: "The whole thing's bizarre and Liz Truss just gave it away when she said that about being a patriot.
"This is not Brexit or Northern Ireland or even the DUP. This is about the Tory party and it's about their internal leadership struggles."