The Taoiseach has described the legislation on the Northern Ireland Protocol published by the British government yesterday, as "anti-business and anti-industry".
Speaking on his way into Cabinet this morning, Micheál Martin said the action by the UK represented a "fundamental breach of trust".
He said he did not believe that the legislation was well thought out and does not represent the realities facing Northern Ireland businesses.
Mr Martin said that NI businesses were performing well under the protocol and called on the UK to resume negotiations.
However, he warned that there was an issue around trust, with "a lot" of EU leaders now concerned that the UK government cannot be relied upon to uphold any future agreements.
The Taoiseach said that the UK's action "makes for very difficult times ahead".
He said nobody wants "acrimony or real difficulty", but yesterday's development made it more difficult to avoid such a situation.
The Taoiseach said that the proposed legislation would have a "destabilising" effect on politics in Northern Ireland and said he does not accept that the Northern Ireland Protocol was undermining the Good Friday Agreement.
Mr Martin also told reporters that people in Northern Ireland were being denied democracy while Stormont was not sitting, adding that he believed that NI voters were the "real losers" following yesterday's developments.
---
---
Mr Martin said that domestic politics in London was a factor in the UK's decision and that the EU had shown flexibility and a willingness to engage, and this was demonstrated in relation to medicines issues.
The Taoiseach did not speak with British Prime Minister Boris Johnson ahead of yesterday's publication and has not spoken to him since either.
Earlier, Minister for Foreign Affairs Simon Coveney said the controversial plans to override the protocol were a "new low" for British-Irish relations in the past 25 years.
Speaking on BBC Radio 4's Today programme, Minister Coveney said the bill is "not consistent with international law and the British government's obligations under international law and I think that will be shown in time.
"But more concerningly this, I think, is really a new low in British-Irish relations, certainly, I think in the last 25 years or so."
Britain's Foreign Secretary Liz Truss has insisted that the UK is acting in a "reasonable way".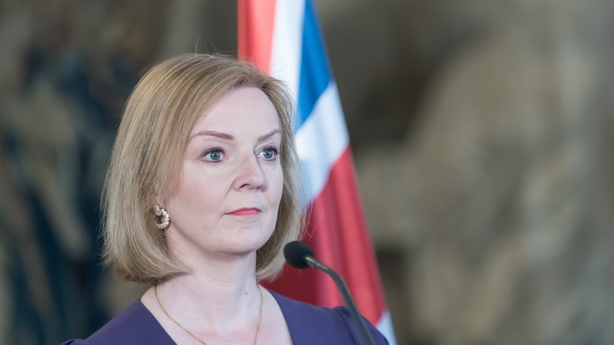 Speaking on Sky News, she said: "We cannot allow the situation to drift and we cannot allow the Belfast/Good Friday Agreement to be further undermined. That's why the government's determined to act and we're doing so in a reasonable way."
Ms Truss later told the BBC that they had to take action because of the political situation at Stormont.
She said: "We haven't seen an Executive formed since February, we have seen east-west trade diminished, trade diverted to north-south. We've also seen the people of Northern Ireland not able to benefit from tax breaks.
"These are all issues that we need to sort out. Our preference is to sort them out with the EU, but as yet the EU are not agreeing to change the text of the protocol."
Meanwhile, the Tánaiste has said that the UK government risks "trashing its reputation" internationally if it proceeds with its plan.
Speaking on RTÉ's News at One, Leo Varadkar said what the UK government is proposing is "fundamentally anti-democratic" as it goes against the wishes of a majority of Assembly members in Northern Ireland, who have made their views known.
However, Mr Varadkar said that what has so far been published is "proposed legislation".
"This is a government that makes threats, sometimes follows through on them and sometimes doesn't and regularly throws shapes," the Tánaiste said.
He said there will need to be a "proportionate" response from the EU.
"I think what we need to do is to in some way re-engage with the UK government around providing practical solutions to some of the genuine concerns that people in business and people in the unionist community have in Northern Ireland, but we're certainly not making any plans to check goods going across the border or anything like that".