Tánaiste Leo Varadkar warned colleagues tonight that Brexit is not a passing storm.
The Fine Gael leader said it is more like political climate change and a permanent change in relations between Ireland and the UK and also between the EU and the UK.
It will go on forever and will never just be "done", he told a meeting of the Fine Gael parliamentary party.
He said Ireland had been threatened before by the UK but Ireland and Europe faced down these threats.
Mr Varadkar said Ireland was dealing with a London government that it was struggling to trust as evidenced by what has happened since the withdrawal agreement was made.
The Tánaiste advised colleagues that efforts would be redoubled to get to a landing zone on the Northern Ireland Protocol but that it needed to be a stable one.
Meanwhile, British Foreign Secretary Liz Truss said there must be "sensible, pragmatic changes" to the Northern Ireland Protocol.
Yesterday, Ms Truss set out her intention to bring forward legislation within weeks overwriting parts of the post-Brexit deal, freeing goods destined to stay within the UK from EU-level checks.
She told Sky News: "The reality is it isn't working on the ground. It has created political instability in Northern Ireland.
"We haven't seen the executive form since February. So we do need to make these changes. And these changes will ... make it better for everyone."
Ms Truss said she wants the EU to "come to the negotiating table" so a "pragmatic solution" can be agreed together.
"But if that doesn't happen we do need to move ahead delivering this solution for the people of Northern Ireland," she said.
Minister for Foreign Affairs Simon Coveney will meet Ms Truss in Turin on Friday to discuss the difficulties over the protocol.
Minister Coveney is travelling to Italy tomorrow for a series of meetings ahead of Ireland taking over the presidency of the Council of Europe for the next six months.
"Secretary Liz Truss will also be there, so we have agreed to meet on Friday," Minister Coveney told RTÉ News. "There is, as you would expect, a lot to talk about."
Noting that British Prime Minister Boris Johnson had indicated his preference to resolve the differences through negotiations, Mr Coveney said it was time to give those negotiations a chance.
"If the British Government is serious about partnership and working out these issues together, with us and with the EU, well then we need engagement and that is what I will be saying on Friday," he said.
Tánaiste Leo Varadkar said a trusted trader system is a possibility but that it brings risk.
Mr Varadkar added that such a system would only be agreed to by the Irish Government if there was an assurance that there would not be any checks at the border.
The Minister for Enterprise, Trade and Employment also questioned whether Ulster farmers would have an issue with such a scenario.
Speaking on RTÉ's Today with Claire Byrne, Mr Varadkar asked if such a move could be a repeat of the Brexit scenario whereby people might support such a scheme without a full understanding of its implications.
"There's possibility that in future, Britain might do a trade deal that brings chlorinated chicken in from Thailand or hormone-treated beef in from America or who knows what, from Brazil or other parts of the world? I'd ask the question, is this something that the Ulster farmers union actually wants?" he said.
He said the behaviour of the British government is causing puzzlement in European capitals and creating an atmosphere of distrust.
The European Union has shown a lot of flexibility, he said, and this must be reciprocated.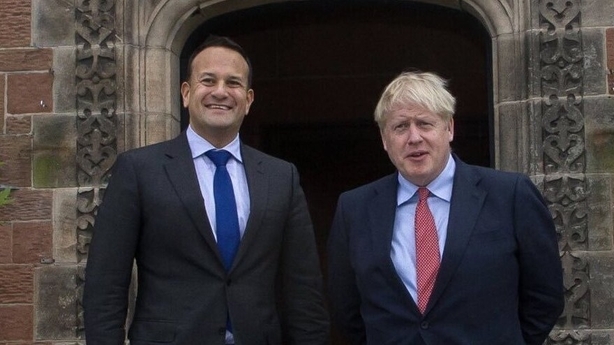 British ambassador to Ireland has said that Britain has taken the view that the agreement reached in 2019 is "no longer delivering on its fundamental objective which supports the Good Friday Agreement".
Speaking on RTÉ's News at One, Paul Johnston insisted that the British and Irish governments are "absolutely in agreement" regarding ensuring peace in Northern Ireland and the Good Friday Agreement.
He said that as part of this it is "really important to get the Northern Ireland Executive up and running".
However, Mr Johnston said that the "main impediment" to that is the fact that the Unionist parties elected campaigned on a platform of seeking significant changes to the Northern Ireland Protocol.
"The British government also sees significant political and practical problems with the Northern Ireland Protocol," he added.
He said that he wanted to make it clear that the British government's "strong preference" is for agreeing changes as part of the negotiated solution with the European Union.
Elsewhere, the Chief Executive of Manufacturing Northern Ireland has said claims by DUP politicians that the protocol is responsible for the cost of living crisis and economic problems in Northern Ireland are wrong.
Speaking on RTÉ's Morning Ireland, Stephen Kelly said there were challenges around the protocol, but it was not the cause of Northern Ireland's economic woes.
Mr Kelly is among 200 Northern Ireland business leaders travelling to Westminster tomorrow to meet with politicians.
He said they will be telling politicians that changes to the protocol "isn't the route that we have asked for" and some consensus with the EU must be found in order to bring stability to businesses in Northern Ireland.
Additional reporting Paschal Sheehy, PA