British Brexit minister David Frost made an impassioned plea to the European Union to allow for "significant change" to post-Brexit rules governing trade with Northern Ireland, saying only that could draw the poison from their relations.
A day before the EU is expected to present its proposals to solve a stand-off over part of the Brexit divorce deal, Mr Frost again warned Brussels that London could unilaterally waive some of the terms of its agreement if the EU failed to budge.
In a speech that was part explanation of Britain's 2016 vote to leave the EU and part accusation that Brussels was all but purposefully trying to further complicate relations, Mr Frost again appealed for resolution to a problem that has run for months.
"In short, let's try to get back to normal," he told an audience of EU diplomats and reporters in the Portuguese capital Lisbon.
"With some effort of will, we could still, despite all the problems, be in a position where the poison is drawn from this issue entirely and it is removed from the diplomatic top table once and for all."
The European Commission has said it will not comment immediately on Mr Frost's speech before it outlines its proposals.
Prime Minister Boris Johnson signed up to the Northern Ireland Protocol as part of his Brexit agreement in 2020, but has since argued it was agreed in haste and was no longer working for the people of Northern Ireland.
Mr Frost has for months called on the EU to allow some changes to the protocol to ease trade in some goods between Britain and Northern Ireland, but today he stepped up the pressure, trying to both coax and threaten Brussels to offer that tomorrow.
The EU is expected to announce its package in answer to a set of proposals Britain presented in July, which outlined London's desire to rework parts of the protocol governing trade and the role of the European Court of Justice.
Asked about the package of proposals, Mr Frost said: "What we hear about it is ... interesting, we'll talk about it even though I fear it may not do the job first round."
---
---
Britain hopes a short period of intensive talks could solve the problems but the EU has repeatedly said it will not renegotiate the protocol and has criticised Britain for reneging on an agreement that both sides signed in good faith.
But Mr Frost again said the protocol was causing unforeseen friction for some goods and was raising fears about the delicate peace in Northern Ireland, particularly to the Good Friday Agreement.
"For the EU now to say that the protocol - drawn up in extreme haste in a time of great uncertainty - can never be improved upon ... would be a historic misjudgment," he said.
Mr Frost has accused the EU of using Northern Ireland to try to reverse the Brexit referendum result.
It comes amid a continuing stand-off with the EU over the role of the European Court of Justice in overseeing any disputes relating to the working of the Protocol.
Mr Frost said: "The Northern Ireland Protocol is the biggest source of mistrust between us and for all kinds of reasons we need to fix this problem."
There was "a widespread feeling in the UK that the EU did try to use Northern Ireland to encourage UK political forces to reverse the referendum result, or at least to keep us closely aligned with EU," he said.
"And moreover, that the protocol represents a moment of EU overreach when the UK's negotiating hand was tied, and therefore cannot reasonably last in its current form."
The Brexit minister said the UK has a "somewhat fractious relationship" with the EU following Brexit.
He said: "Geopolitics has become important again, location matters.
"Brexit has changed [Britain's] international interests and hence will change our patterns of European relationships. Not necessarily fundamentally, but significantly."
He said the UK would be "setting a different path on economic policy" because "Brexit means competition" and it was "a democratic project that's bringing politics back home".
But he added: "The EU and we have got into a low equilibrium, somewhat fractious relationship, but it need not always be like that. But also it takes two to fix it.
"Fixing the very serious problem we have in the Northern Ireland Protocol is a prerequisite for getting to that better place."
Explaining changes since Brexit, Mr Frost said: "We no longer have an interest in coalition building across the EU to shape EU rules.
"Of course we take a strong interest in what happens within the European Union. We want the member states of the EU to be prosperous and successful."
Mr Frost insisted the fundamental element of Britain's withdrawal from the EU is about "democracy".
He went on: "That's why I don't see anything wrong with Brexit being described as populist policy. If populism means doing what people want, challenging a technocratic consensus, then I'm all for it.
"To suggest there is something wrong in people deciding things for themselves is somewhat disreputable, maybe even disrespectful, to the British people in our democracy."
Tánaiste Leo Varadkar has warned the demand by the UK to end the role of the European Court of Justice in policing the Northern Ireland Protocol would be "very hard to accept".
"The role of the European Court of Justice is there to adjudicate the rules of the single market," he told a news conference in Dublin.
"I don't think we could ever have a situation where another court could decide what the rules of the single market are.
"I think that's why it makes the most recent demands of the UK government very hard to accept."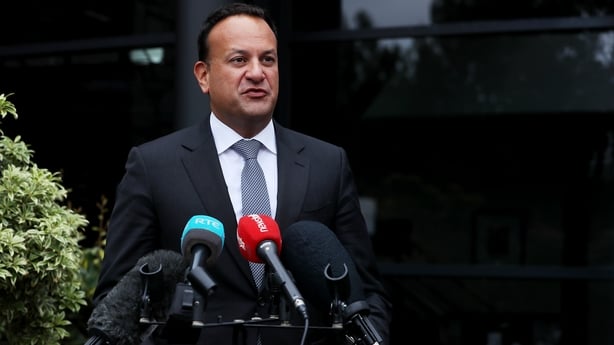 Temporary fixes or tinkering around the edges will not resolve problems with the Northern Ireland Protocol, the DUP has warned.
Party leader Jeffrey Donaldson said: "The protocol does not have the support of a single elected unionist in Northern Ireland.
"If it is not replaced, then it will condemn Northern Ireland to further harm and instability. It is already costing us £850 million per year and undermining the Union.
"The people who live and work here need a solution which can command support throughout the community. That is why, when I became leader just over 100 days ago, I made this my number one priority.
"This is not a time for tinkering around the edges with temporary fixes. We need a long-term solution which will then allow us all to plan and get back to focusing on fixing our public services rather debating the protocol."
Additional reporting: Sandra Hurley