There are very low levels of trade at Dublin Port according to Revenue, however officials expect delays over the next week due to increased post-Brexit checks.
Tom Talbot, head of Revenue's operations at Dublin Port, said there continues to be a "slow and steady build up of trade" to and from the UK.
Revenue has said it was still very early days and the new system was bedding down. Officials are using this week to "build familiarity with systems".
Revenue said there had only been some minor delays for hauliers who did not complete the correct paperwork upon arrival in the Republic of Ireland.
The HSE, gardaí and Revenue have deployed extra staff and resources to ports to ensure the system continues to run smoothly.
"There will be delays as traffic builds but we are confident we can minimise the disruption," Mr Talbot told reporters at a media briefing at Dublin Port.
Revenue said it was updating and amending the guidelines for businesses as the new procedures are rolled out.
"This is new to everyone and it will take time to bed in," Mr Talbot said.
UK's Brexit plans hold up as first working week of 2021 begins
Meanwhile, ports in the UK sailed through the first working day since Britain left the EU, with preparations for post-Brexit trade holding firm as traffic remained muted.
The British government and many logistics operators have feared teething problems as officials on both sides of the Channel implement new customs systems after decades of frictionless trade.
At Dover in southeast England, Europe's busiest port for roll-on, roll-off freight and where more lorries were expected to make continental crossings today, traffic remained light but free-flowing.
"We're quite happy with how it's gone ... the vast majority of freight traffic have a green light to go," Chris Parker, of DFDS - one of two ferry companies operating services from the port to northern France - told BBC News.
"As we expected, the traffic's been much less than last year," he said, noting freight was always quiet in the new year and expected to build up again "over the next week or two".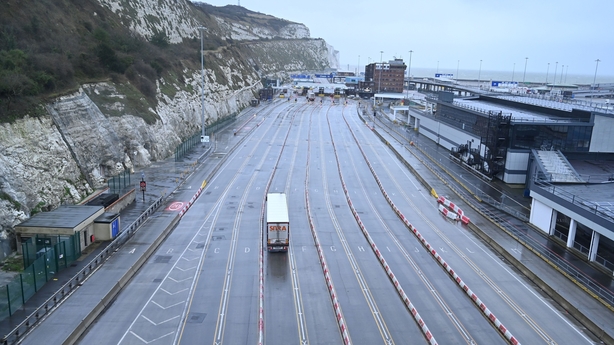 A DFDS spokeswoman said its cross-Channel traffic through Dover in the first two days of 2021 was down by more than half on last year.
Figures from port officials confirmed the freight reduction in recent days, with 2,237 lorries passing through Dover on 31 December, falling to just 673 on New Year's Day and 914 on Sunday.
"Traffic has continued to flow smoothly through the port since the Brexit transition (ended)," a port spokesperson said.
---
---
EU-bound lorry drivers must now carry a slew of new paperwork, and those using Dover must get a Kent Access Permit prior to setting off to show they have all necessary documentation.
Cameras will identify any trucks without the permit, and drivers face fines of up to £300 (€334) for entering the county without one.
The government, which has employed 1,000 new border officials, devised the permit over fears that lorries could turn up at Dover without the proper paperwork, causing delays in and around the port.
In a sign of the chaos that could be possible, thousands of trucks were stranded in Britain before Christmas after France closed the border in response to a new coronavirus variant.
Ministers believes most large businesses are ready for the new regulations but that around 50% of medium and small firms have not carried out the measures now needed to export goods to Europe.
Meanwhile to help ease potential backlogs of incoming lorries in the next few months, they have opted to phase in verification of imports, with full checks on goods only from July.
Additional reporting AFP