Minister for Foreign Affairs Simon Coveney has said that Brexit negotiations are "at the very end" and if a deal cannot be done on the future EU-UK relationship and on trade then the focus will shift very soon to a no deal scenario.
Speaking on RTÉ's News At One, Mr Coveney said "that is not where we want to be" but if no deal is reached "then that is where we are going to find ourselves".
He said that the transition period ends at the end of the month and that there is no legal mechanism to extend this.
Therefore, he said, on 1 January fundamental change will come into play "whether we like it or not", and from a trading perspective that has very significant consequences.
He said that without an agreement on a future relationship there will be "huge disruption and costs".
Mr Coveney said that it normally takes months to ratify an agreement like this and so the European Parliament is frustrated and some are impatient, but he said it takes time to agree a deal like this, and that "the consequences of not having a deal really do focus the mind".
He said that a deal could be ratified quickly once done, but it needs to be done in days, not weeks.
Mr Coveney said that provisional ratification "is possible" within the deadline, but is not what the EU will encourage and some countries will have a problem with that.
He said "nothing is impossible but all the effort and focus is on trying to close out this negotiation in the next few days".
He said that the two big issues remain the EU's insistence of a level playing field for doing business, and fishing.
He said that slow progress has been made to ensure the UK does not try and derive competitive advantage for itself to apply state aid to its own economy.
We need your consent to load this rte-player contentWe use rte-player to manage extra content that can set cookies on your device and collect data about your activity. Please review their details and accept them to load the content.Manage Preferences
The minister said a governance model on future dispute resolution remains to be agreed, along with a robust and tough independent mechanism to deter such breaches.
He said fishing is the other issue, which is highly political and emotive.
Mr Coveney said the UK associates fishing rights with sovereignty and "taking back control" but he said that fishing is part of a broader package of agreements, whereby if the UK want to access energy markets, it must facilitate access to the EU for fishing.
He said that the reason why there is not a deal today is because the EU is insisting on this approach.
---
Read more:
Latest Brexit stories
---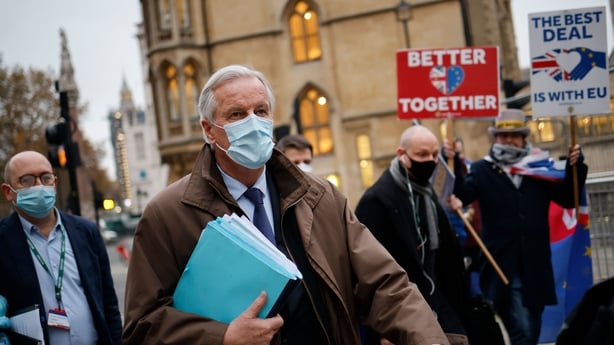 Meanwhile, the EU's Chief Brexit negotiator and his team are in London for continuing negotiations.
Talks stretched late into the night as both sides fought their corners with the clock ticking down to the deadline for a trade deal.
The negotiations continued after British Prime Minster Boris Johnson insisted the UK's "bottom line" on a post-Brexit trade deal is to "take back control". 
He said he was "absolutely committed" to trying to secure a deal "if we can" amid warnings talks with the EU have reached a "make or break" point. 
Mr Barnier briefed ambassadors from the 27 member states on the latest negotiations amid little sign of progress on the key issues. 
He was said to have warned that significant differences remain over fisheries, state aid rules and the governance arrangements for any agreement. 
The current trading arrangements expire at the end of the month, and failure to reach a deal would cause significant economic disruption. 
'We will lose our fishing fleet ... that's not a joke, this is reality'
Chief executive of the South and West Fish Producers Organisation Patrick Murphy has said that the EU is "throwing away fishing" in late stage Brexit trade negotiations and risks undoing all the work of 40 years of the Common Fisheries Policy.
Mr Murphy said the Irish fishing fleet will be most adversely affected by changes in the Common Fisheries Policy if boats are told to leave UK waters and access Irish waters instead.
He said that by changing "share and access" rules it would destroy stability in future for the Irish fishing fleet and complained the industry are "in the dark" and have not been spoken to during this part of the negotiations.
He said Irish waters can only sustain so many boats and this needs to be looked at seriously.
Mr Murphy said that safety measures need to be put in place, including how many boats will be allowed into Irish waters if they are put out of UK waters, what will be the access share and will the Irish fleet be expected to take less to allow other vessels to come in.
He said Ireland's fishing communities have seen a reduction of over 42% in vessels of over 18 metres in its fleet in the last ten years.
Mr Murphy said that he has seen the fishing industry in Baltimore, Co Cork, "wiped out" in a few years and warned that "if this continues we just won't have a fishing fleet, we will lose our fishing fleet ... that's not a joke, this is reality".
Additional reporting: PA