The Minister for Foreign Affairs has said that he believes a trade deal can be done before the end of the Brexit transition period.
Speaking on RTÉ's Today with Claire Byrne, Simon Coveney said the Brexit process is back on track.
He said: "I believe a deal is doable, but difficult."
But he said the issues that are preventing a trade deal being finalised "are still very much there".
However, Mr Coveney said "trust has been damaged" due to the UK's behaviour, both in recent weeks and over the past year.
He said the UK has moved away from many of the commitments they made in the political declaration, "particularly around fair competition and a level playing field".
Mr Coveney said: "That has injected a lot of difficulty and tension into these negotiations and then more recently the UK introducing domestic legislation which was deliberately committing to break international law on aspects of the protocol on Northern Ireland." 
He said he believes this was a negotiation tactic to deliberately introduce tension, "which has backfired".
We need your consent to load this rte-player contentWe use rte-player to manage extra content that can set cookies on your device and collect data about your activity. Please review their details and accept them to load the content.Manage Preferences
Mr Coveney said history is repeating itself in the commentary on predictions that a trade deal will not be agreed, like what took place last year in advance of a withdrawal agreement being signed off. 
But he said there is "very much a focus in the negotiating rooms" on getting a deal, and he thinks trust has improved in the last few days.
Mr Coveney has also called on all Irish businesses who rely on suppliers, producers, clients and customers from the UK to immediately check on their preparations for Brexit.
He said an agreement on fair competition and a governance model on how to enforce that are "the two obstacles to getting a basic trade deal in place." 
He said trading on WTO terms, in the absence of a trade deal, would mean Ireland would pay tariffs on trade of up to €1.5bn a year, on €5.5bn worth of trade to the UK. 
The importance of getting a "bare-bones deal", he said, "is to avoid that cliff edge." 
He disagreed with reports that the EU Chief negotiator, Michel Barnier, "has pushed EU leaders to give in on their fishing demands." 
He said Mr Barnier has said both sides need to compromise on fishing "but that does not equate to the EU giving in and the UK getting exactly what it wants." 
Mr Coveney said: "It is true to say both sides are miles apart on fishing." 
"We will not be selling out Irish fishing interests," he said, "to get a deal in other areas."
Meanwhile, post-Brexit trade talks between the UK and European Union will continue in London as Michel Barnier said both sides have a "common responsibility" to strike a deal.
Mr Barnier is expected to continue discussions with his UK counterpart David Frost as the deadline for an agreement looms.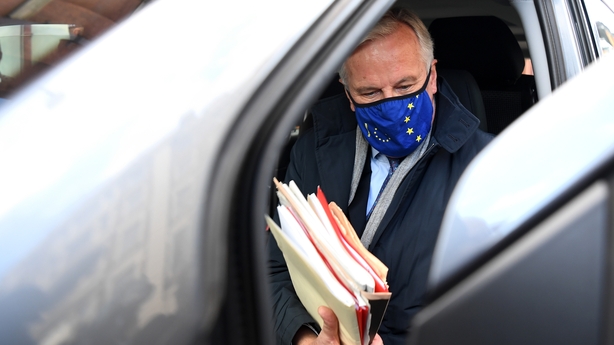 Talks had been in limbo after British Prime Minister Boris Johnson's deadline for a deal passed last week, but they resumed yesterday as the EU said both sides needed to compromise on trade issues.
Arriving in London, Mr Barnier said it was important to be back at the table. "I think we have a huge common responsibility. Every day counts."
The UK government acknowledged that "significant gaps" remain between the two sides and it was "entirely possible that negotiations will not succeed".
The main stumbling blocks remain fishing rights, the governance of any deal and the "level playing field" aimed at preventing unfair competition, which includes state subsidies.
Time is short to reach an agreement before the end of the transition period on 31 December.
Both sides had previously said a deal would need to be reached by mid-October in order to allow time for ratification.
---
---
"Time is now very short and we've been repeatedly clear that any agreement needs to be in place before the end of the transition period and if an agreement can't be reached, we will leave on Australian-style terms," a spokesman for Mr Johnson told reporters, using the British government's term for no deal.
"Both sides have agreed to a genuine intensification of the negotiations with talks taking place daily, including at weekends."
There has been some movement around the edges, but in a briefing with diplomats in Brussels late on Wednesday, Mr Barnier said he was only worried about fish, one person who participated in the closed-door meeting said.
"Fish is now the thing to tackle. The other elements seem doable, more or less," the diplomat said.
Britain wants control over its waters and annual quota negotiations while the EU wants continued access for its boats, with the French particularly concerned about losing their catch.
After Mr Johnson walked away from talks last week, EU officials have become increasingly frustrated with British tactics which in their mind simply use up valuable time in unnecessary theatrics.
But the UK side have argued that they must stick up for their position, and honour Mr Johnson's pledge to "take back control". Some in his team saw a small victory in the EU talking up British sovereignty to get the talks back on track.
A no-deal finale to Britain's five-year Brexit drama would disrupt the operations of manufacturers, retailers, farmers and nearly every other sector just as the economic hit from the coronavirus pandemic worsens. 
Additional reporting Reuters