A no-deal Brexit could result in the loss of up to 5,000 jobs in the fisheries sector, an industry group has warned.
The Killybegs Fishermen's Association said many of the jobs would be lost in coastal communities, which are highly dependent on the sector.
The group, which represents fishermen in Co Donegal, said a no-deal Brexit would be an "unmitigated disaster" for the sector.
It said it could mean that EU fishing vessels may no longer have access to British waters, leaving many Irish fishermen without access to the most profitable waters.
We need your consent to load this rte-player contentWe use rte-player to manage extra content that can set cookies on your device and collect data about your activity. Please review their details and accept them to load the content.Manage Preferences
Ciaran Doherty is a fisherman in Donegal and said he could lose up to 60% or 70% of the waters he fishes if there was no deal.
He said if access to British waters was lost, "it closes our industry".
Such a development would also lead to the EU fishing fleet moving into waters off the Irish coast, which would have a significant impact on the conservation of fish stocks and would lead to "chaos at sea", some leading industry experts said.
Killybegs is renowned as a fishing port for mackerel and other species and the catch from there is exported to markets all over the world.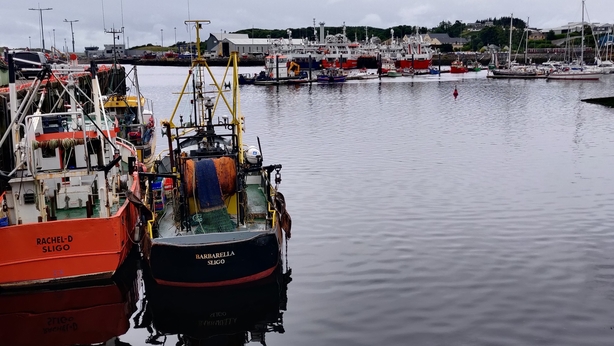 Sean O'Donoghue of the Killybegs Fishermen's Association said the loss of access to British waters could mean that the value of the €1.2bn sector could be halved, resulting in as many as 5,000 jobs being lost.
He said the association is "moving might and main" to ensure the sector is protected as much as possible, and significant effort is being made by the industry at an EU level to ensure the outcome for Ireland is as favourable as possible.
Minister for Agriculture, Food and the Marine Dara Calleary said the Government is working closely with EU counterparts to ensure that the "best interests" of Ireland are served.
Sinn Féin's Matt Carthy said the Government must re-double its efforts to ensure a no-deal Brexit is avoided.
He said the fishing sector had got a "bad deal historically" from Europe and if there was a no deal, the fishing sector must be "protected and compensated".
Mr Carthy said a no-deal Brexit could spell "the end of the Irish fishing industry as we know it" and, in his view, the Common Fisheries Policy needs to be "fundamentally reviewed".
We need your consent to load this rte-player contentWe use rte-player to manage extra content that can set cookies on your device and collect data about your activity. Please review their details and accept them to load the content.Manage Preferences