European Commission President Ursula von der Leyen has said if a trade agreement cannot be reached with the UK by the end of 2020 then we will face another cliff edge scenario.
Speaking in the European Parliament in Strasbourg, she said this would harm the UK more than the European Union.
However, she said it was not in the union's interest and it would make the most of the short time period.
Ms Von der Leyen said the UK would become a third country, but she said she hoped this marked the beginning of an unprecedented partnership between the EU and the UK.
She said: "The timetable ahead of us is extremely challenging. 
"In case we cannot conclude an agreement by the end of 2020, we will face again a cliff edge.
"This would clearly harm our interests, but it will impact more the UK."
She also said the EU's Green Deal would transform the continent's growth strategy.
Ms Von der Leyen said that for too long humanity has taken away resources from the environment and instead produced waste and pollution.
She told the parliament that the Green Deal gives more to the planet than it takes away from it.
Ms Von der Leyen said many states have different starting points and different problems to tackle, for example Poland will have to transform its large coal mining industry.
She said the EU would have to flesh out the plan in the coming weeks and months, and the task ahead would be "tremendous" but she said the EU must stand together.
European Council President Charles Michel said the Green Deal was a huge step in the right direction.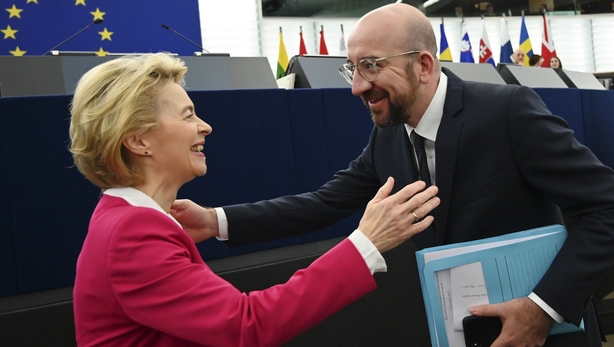 He told the parliament that climate transition had to be fair and balanced and required funding.
He said the next European budget would be complex because of the Brexit gap and countries will have to pay more and others will have to receive more.
Mr Michel said the council had to find the right balance when it comes to agriculture and new challenges such as migration and climate change.
He said that it was not the EU's intention to have an extension on the trade negotiations with the UK, but he said that situation had to be pre-empted.
Mr Michel said the commission was ready to work with other institutions on Brexit negotiations.
He said it wanted unity and transparency to ensure the negotiations were a success.