British Prime Minister Boris Johnson is to table a motion in the House of Commons on Monday for a general election to be held on 12 December.
Speaking following a cabinet meeting this afternoon, Mr Johnson said the holding of an election would create a 'credible deadline' for parliament.
He said it would be 'morally incredible' if the Labour Party refused to back the poll.
In a letter to Jeremy Corbyn shared on the Prime Minister's Twitter account, Mr Johnson urged the Labour leader to support an election next week so "the voters can replace this broken Parliament".
I have written to Jeremy Corbyn: this Parliament must get Brexit done now or a NEW Parliament must get Brexit done so the country can move on pic.twitter.com/PekfFRsR9F

— Boris Johnson (@BorisJohnson) October 24, 2019
Mr Johnson said he will give parliament more time to scrutinise his Brexit deal if MPs agree to hold an election.
He told the BBC: "I'm afraid it looks as though our EU friends are going to respond to parliament's request by having an extension, which I really don't want at all.
"So, the way to get this done, the way to get Brexit done, is, I think, to be reasonable with parliament and say if they genuinely want more time to study this excellent deal they can have it but they have to agree to a general election on December 12."
The development comes as European Union leaders continue to consider whether to grant a further Brexit extension.
Earlier, Labour said it remains open to a "compromise" with the government which could allow Mr Johnson to get his Brexit deal through parliament.
Following inconclusive talks between the Prime Minister and Jeremy Corbyn yesterday, shadow chancellor John McDonnell said a "dialogue" with ministers was continuing.
Now that Mr Johnson has decided to press for an early election there is no guarantee that he will succeed.
We need your consent to load this rte-player contentWe use rte-player to manage extra content that can set cookies on your device and collect data about your activity. Please review their details and accept them to load the content.Manage Preferences
Under the Fixed-term Parliaments Act he would need a "super majority" of two thirds of all MPs to call an election which would require Labour support.
Mr Corbyn has said that Labour is ready to go to the country once it is sure Mr Johnson cannot "crash out" in a no-deal Brexit in the middle of a campaign.
---
Read more:
Latest Brexit stories
---
While there are other potential routes to an election, such as Conservatives voting for a no-confidence motion in their own Government which would only require a simple majority of one, they are also fraught with difficulties.
Any decision is likely to wait until tomorrow when EU leaders are expected to make their decision on whether, and for how long, there should be another Brexit delay.
It is widely thought they will agree a so-called "flextension" to the end of January, with the option for the UK to leave before then if there is agreement in parliament on a deal.
Such a move would be in line with the request which Mr Johnson was forced to submit under the terms of the Benn Act after he failed to gain approval for his deal at Saturday's special sitting of parliament.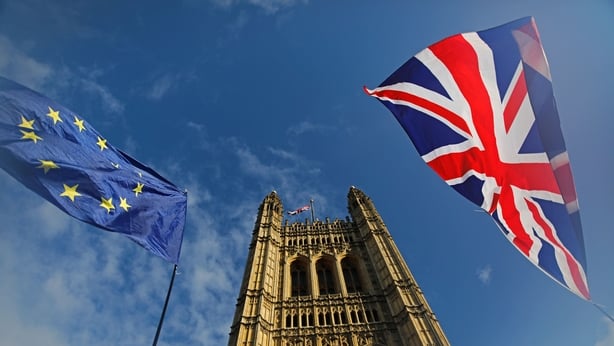 This approach enjoys the support of key figures such as Taoiseach Leo Varadkar and German Chancellor Angela Merkel.
However, French President Emmanuel Macron is reported to be pressing for a much shorter delay to the middle of November to keep the pressure on MPs at Westminster.
If leaders cannot come to an agreement it could mean there will have to be an EU emergency summit, probably on Monday, just three days before the UK is due to leave.
A shorter extension would be a boost to Mr Johnson who has told outgoing European Council President Donald Tusk that he does not want any further delay.
Meanwhile, the Minister for Finance has said he is satisfied that the EU will be able to agree a Brexit extention.
Paschal Donohoe said: "The overwhelming priority of the Irish Government is to protect the agreement we now have, and to see it ratified by a House of Commons.".
He added that the €1.2 billion budgeted in the event of a no-deal Brexit will not be used if a deal is approved.
He confirmed there would not be another budget to redistribute the money if Brexit is agreed.